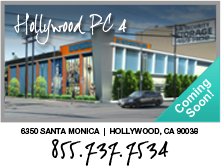 Los Angeles, CA (PRWEB) May 30, 2013
Hollywood Production Center announced today that they will be expanding their selection of elite executive office space locations to include a new facility west of their current flagship location. The company offers elite turnkey production suites with all the amenities for the film and television production industry. The new location is located at 6350 Santa Monica Boulevard between Vine Street and Cahuenga Boulevard and is expected to open in June. A gala grand opening party has already been scheduled for 6 PM on June 27, 2013 to celebrate the new facility.
Hollywood Production Center already offers two exclusive locations in the Glendale area as well as its existing facility in Hollywood. With more than 10 years in the executive office space industry, the company continues to enjoy unparalleled success in the field of entertainment production. The addition of the second Hollywood location was prompted by exceptional demand for the company's unique blend of cutting-edge production facilities and boutique amenities combined with improved economic conditions in the Hollywood film industry. The new building will incorporate contemporary design features and spa-level facilities as well as lightning-fast Internet access and convenient locations to provide the most advanced and specialized experience for television and movie production crews throughout the industry.
The all-inclusive turnkey production suites at Hollywood Production Center offer a full array of luxury features, including the following:

An on-site masseuse for managing stress
Personal trainer and fully equipped gym with lockers and showers for staying fit and burning off calories in the workplace environment
A café with a full array of dining choices to suit almost any taste
A styling salon to keep men and women looking their best
Valet service and car wash services on the premises
These turnkey suites and office spaces are designed specifically to meet the working requirements of production professionals and include the following features:
High-speed Internet, voice and data services are ready for use from the first day of occupancy
Cable-ready office facilities
Fully equipped post-production offices
A choice of top-quality office furnishings to create the right impression
Elegant reception and lobby area
Contemporary design throughout the facility
Conference rooms equipped with a full range of interfaces for professional presentations
Community copy room with copier and fax machine
These advanced services and all-inclusive suites provide real flexibility and support for production and post-production activities in the vibrant Hollywood entertainment industry. The new facility will continue the Hollywood Production Center tradition of boutique services for production professionals and will offer exceptional turnkey suites and elite office space to deliver even more choices for clients throughout the area.
About Hollywood Production Center
Hollywood Production Center offers all-inclusive suites designed to suit the pre- and post-production needs of the Hollywood entertainment industry. With an extensive list of amenities and adaptable suites, Hollywood Production Center facilities have attracted some of the biggest names in entertainment as an elegant solution for all their casting, editing and production needs.