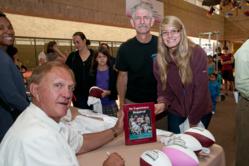 San Antonio, Texas (PRWEB) May 30, 2013
True to its committment of helping Aggies and Others in need, members of Coach Jackie Sherrill''s 12thMKOT Foundation will be on hand to hand out the book "No Experience Required", nerf footballs,12th Man rally towels and t shirts to the kids visiting the Children's Hospital of San Antonio on May 30, 2013.
The Foundation members, (mostly past Texas A&M Football Players and Coaches) make charitable appearances at various hospitals across the state including Scottish Rite Hospital for Children (Dallas), MD Anderson Children's Cancer Hospital (Houston), The Emory Bellard ALS Clinic at Scott & White Memorial Hospital (Round Rock) and the Rise School in honor of Johnny Stallings in Alabama. The Foundation provides scholarships for Texas A&M students as well as encouragement to children facing health, family and/or financial adversity.
About Children's Hospital of San Antonio:
CHRISTUS Santa Rosa has a long history of caring for the children of San Antonio and South Texas. Since the very first days, our mission has been to extend the healing ministry of Jesus Christ.
In 1869, the first hospital in San Antonio was opened by the Sisters of Charity of the Incarnate Word – Santa Rosa Infimary. In 1874, the Sisters began to care for children, bringing four orphans into their care. A pediatric unit opened in the late 1800s. In 1930, the infirmary was renamed Santa Rosa Hospital. The Children's Hospital opened in 1959 as the region's first hospital solely dedicated to the care of children. On April 20, 2012 CHRISTUS Santa Rosa Health System announced board approval from CHRISTUS Health to transform its downtown campus to the Children's Hospital of San Antonio, the city's world-class freestanding children's hospital.
The Children's Hospital of San Antonio will be the focal point for a network of pediatric services through the community. There will also be outpatient facilities and clinics throughout the region. Releasing the burden from taxpayers, the not-for-profit system will continue to serve the traditionally low-profit, high touch needs of the pediatric population. For more than 50 years, the Children's Hospital has developed and grown services that meet specific needs in the community – and will continue to do so well into the future.
About the 12th Man Kickoff Team Foundation:
Created in 2007, the 12th Man Kickoff Team Foundation is a 501c3 non-profit organization that provides scholarships to Texas A&M Students on a need basis. The Foundation is comprised of more than 80 former Texas A&M University football players, some of who serve on the Foundation's board along with Coach Jackie Sherrill, Dr. John Koldus and others. These players, along with Coach Sherrill, are the creators of the book "No Experience Required" that chronicles the 12th Man Kickoff Team. The Foundation is focused on creating a legacy of sharing, caring and giving back.
For more information, please visit http://www.12thmkot.org
Dusty Davis '74
Executive Director
Jackie Sherrill's 12th Man Kickoff Team Foundation
P.O. Box 12128
College Station, TX. 77842
800-481-1876