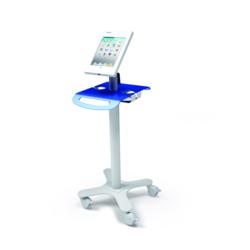 Physicians are finding it easier to communicate with patients with an iPad,
Salt Lake City, UT (PRWEB) May 30, 2013
As health care providers seek to improve communication with patients, many have turned to iPad technology as a collaborative medium between physicians and patients. To this end, the team at ArmorActive is proud to announce the release of the Medical iPad Cart--a mobile, yet secure, tablet station designed specifically for the healthcare industry.
High resolution screens, like the Retina display of the iPad, have helped make tablets an ideal tool for healthcare professionals. According to recent studies, more than 62% of physicians are using tablets, often at the point of care. These devices allow professionals to access patient EMRs (Electronic Medical Records), charts, x-rays, and much more. With the ability to interact directly with this imagery doctors are able to better teach and instruct patients, creating an atmosphere that fosters communication and understanding.
The all new Medical iPad Cart from ArmorActive features characteristics that seamlessly integrate the iPad and other tablets into the healthcare environment. These features include:
*Locking Castor Wheels for medical kiosk mobility
*Joint between stand and enclosure to allow for enclosure flipping, ideal for signatures and collaboration
*Quick-Release head for seamless removal of iPad enclosure
*Power to iPad internally routed through Medical iPad Cart
*Instrument tray for tools or wireless keyboard
*Quick access key-locking Full Metal Jacket iPad enclosure
These cart features and the many medical apps available through the App store make it easy to use tablets to aid in the patient experience. "Physicians are finding it easier to communicate with patients with an iPad," said Scott Paul, Founder of ArmorActive. "Teaching using the iPad helps patients understand the terms and diagnoses that often go over the head of the average Joe. Current iPad technology is transforming physician to patient interaction and increasing patient satisfaction."
On a daily basis ArmorActive fields interest for medical application of these devices from across the country and world. These inquiries come from small practices as well as national healthcare organizations looking to implement thousands of medical iPad kiosks in hospitals throughout the country. ArmorActive is proud to unveil the Medical iPad Cart as a solution for all tablet-based medical communication.
About ArmorActive
ArmorActive is a global tablet security solutions company. Unique in the industry, ArmorActive provides a team of Account Managers to help customers make the best decisions at all stages of their tablet-based projects, from procurement to implementation. A wide variety of ArmorActive products are available at http://www.ipadenclosures.com