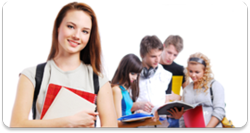 Thinking of getting enrolled this summer? Well, you don't need to run over to thousand places. SearchMyDegree.com has got it all for you
Iselin, NJ (PRWEB) May 30, 2013
Thinking of getting enrolled this summer? SearchMyDegree.com, one of the most exhaustive websites for students of all age groups, has come up with new section related to admissions this summer. It is a one-stop solution for students keen on getting admitted to one of the best schools in the US.
High school students can benefit the most from this section as they can choose and request information directly.
A separate column for working executives and working moms makes this section more interesting. They can choose courses that allow them to earn a degree without disturbing their schedule.
For graduates, one of the best features of this section is research on top schools, which might help them get their dream job.
Most students strive for authentic information that can benefit them in shaping their future. With exhaustive research on the available degrees across the US colleges, SearchMyDegree.com is a one-stop resource for all education options. Information on majors across a wide array of disciplines is now easily accessible with the new Search My Degree section and search widgets.
SearchMyDegree.com staff has spent ample time to bring all top schools on same page with links to request information from schools directly. All this helps to eliminate the middle layers. Once information is requested, an admission officer will call to answer all questions related to the admission process, scholarships, financial aid and other options.
SearchMyDegree.com proffers latest updates on admission to the well-ranked universities across the country with its latest section. From providing information on the eligibility criteria to giving information on the companies interested in hiring students from universities, this site has it all. The updated information educates admission enthusiasts on the latest criteria and requirements of the university they wish to apply at.
No wonder, SearchMyDegree.com gives students the opportunity to take a career leap of their choice. In today's tech-laced age, everyone should have access to what they need to know. Especially, when students are stepping into the future, this site gives the relevant knowledge that will help them make the choice that will shape their careers. SearchMyDegree.com strives to make students more knowledgeable about their career path.
About SearchMyDegree.com
http://www.SearchMyDegree.com is the ultimate online helper that offers information related to degrees, colleges, studies and scholarship that can help shape future of lot of students. The site offers reliable and direct information about the different sources of education and making the right decision for potential online school courses or degrees.