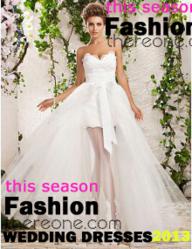 Homecoming Dress Promotion Now Online at Thereone.com
(PRWEB) May 30, 2013
Thereone.com, a leading supplier of wedding dresses and special-occasion dresses, has just launched its homecoming dresses sale to satisfy the increasing need of homecoming dresses in the summer 2013, up to 60% off.
Last week, Thereone.com released its new styles of homecoming dresses. Today, in order to thank customers for their support, the company announced great discounts on these new dresses.
These homecoming dresses from Thereone.com feature fashionable designs, gorgeous looks and dedicated craftsmanship. At its website of Thereone.com, people can find the styles they like easily. These different styles should be enough for any picky woman.
"I ordered my homecoming dress from Thereone.com last week. I got it on time. I am satisfied with the fast shipment and the product quality. I will be happy to recommend the website to my friends," Amy, one of customers said.
In addition, Thereone.com is offering more than 1000 different styles of wedding dresses, including vintage wedding dresses, beach wedding dresses, colored wedding dresses, mermaid wedding dresses, and princess wedding dresses and so on.
About Thereone.com
Founded in 2009, Thereone.com is a leading supplier of wedding dresses and special occasion dresses. The website is committed to developing cheap and high-quality women's dresses for customers. This company has a group of designers who create elegant designs for customers all over the world. Good customer service, high quality, fast delivery, and competitive prices, are the reasons to choose Thereone.com.
For more information, please visit http://www.thereone.com/.