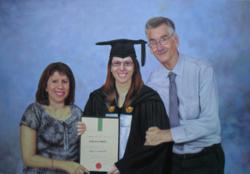 McKinney, TX (PRWEB) May 30, 2013
Paint Your Life, the leader in custom art available online, has announced a special sale on gifts for grads. Whether they are leaving school for the first time, or they are finally receiving their degree after years in college, you can be certain that a piece of custom art from Paint Your Life will be a gift like none other. There are plenty of gift options available to choose from. Friends and Family might think about commemorating their achievement with a painting from a picture—such as a senior photo, in the case of high school graduates, or a unique baby photo or family photo for college grads. You might also consider a photo to canvas print for a great piece of art that will last for years to come.
For high school graduates who are about to head off to college for the first time, there are plenty of options to choose from. One popular option is to create a piece of canvas pop art based on their own photographs, or a favorite family photo so that they are always reminded of home. In addition to help alleviate those feelings of homesickness, a piece of pop art can be a great way for grads to decorate their dorm rooms in a way that is fun, unique, and unlike anything else they will see on campus. You might even consider something a little bit more fun such as pet portraits of the family cat or dog that they can use to decorate their new home away from home.
Likewise, a recent college grad may appreciate a piece of art that they can use to decorate their office when they finally get that new job they worked so hard for. Grads who have worked for an exceptionally long time for their degree, such as medical students and law students, may appreciate more upscale oil painting that they can use to decorate their new offices or practices.
These great gift options are available online, and each item will be handcrafted by one of the many talented artists at Paintyourlife.com. Whether searching for something as simple as a pattern printed on a canvas to create a custom piece of art, or something unlike any other piece of art a graduate has ever seen, such as the charcoal paintings offered, shoppers will be sure to find it on the site.
About Paint Your Life
Paint Your Life was founded in 2006, and features one of the world's largest selections of canvas and art products. All products are designed by a team of professional graphic designers, and each product is created with the utmost quality and attention to detail. The site, which is a leader in the online art industry, has seen tremendous success because of customer and word-of-mouth referrals, and continues to expand its products to cater to a wide variety of needs.