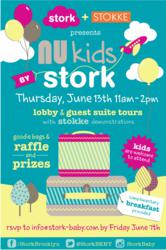 The NU Kids by Stork partnership allows us to provide high quality products for parents on the go. These are the items that I want available when I travel with my family. - Jennifer Goodman, sales manager at NU Hotel Brooklyn
Brooklyn, NY (PRWEB) May 30, 2013
Traveling with young kids is fun, but it can be challenging. Little people require a lot of equipment that can be heavy and unwieldy. As a mother of two, Jennifer Goodman, sales manager at NU Hotel Brooklyn, knows this firsthand, so when she met Eyana Carballo —owner of Stork, a baby boutique in neighboring Crown Heights — a collaborative partnership naturally evolved.
Through NU Kids by Stork, launching on June 13, guests can borrow a host of equipment including: Stokke® Sleepi Cribs, baby bathtubs, outlet covers, a Tripp Trapp® Highchair with Baby Set™, toddler step stools, and Stokke® Scoot stroller, Kickboard Scooters, Helmets, and Bicycles. For guests interested in equipment rentals, NU Kids by Stork offers a host of high-end options perfect for transporting a child around the city easily and comfortably.
To celebrate the launch of the partnership, NU Hotel Brooklyn and Stork are hosting a breakfast to preview NU Kids by Stork, on Thursday, June 13 from 11 a.m. – 2 p.m. The event will feature product demonstrations by Stokke, lobby and guestroom tours, a raffle, prizes and complimentary breakfast (as is offered to all hotel guests daily).
"The NU Kids by Stork partnership allows us to provide high quality products for parents on the go. These are the items that I want available when I travel with my family," said Goodman. "Our launch event on June 13 will provide a nice preview of the program in an actual guestroom. Some of our other fun kid-friendly amenities, such as chalkboards in our bathrooms and our custom-made mural coloring books of NU Perspectives murals will also be on display. Your little Picasso can get to work here at NU Hotel!"
The NU Perspectives coloring books feature a selection of murals designed by local Brooklyn artists and the actual murals can be found on the walls of various guestrooms at the hotel. Kids can color to their hearts content and learn a little about the artists that created the Brooklyn-inspired murals.
Guests interested in renting equipment should contact Stork directly. Available equipment for rental includes: Stokke Scoot Strollers $20/day, Nutcase and Kickboard Helmets $5/day, Stokke MyCarriers $10/day, Kickboard Mini/ Maxi Scooters and Balance Bikes $10/day and Car Seats $10/ day.
The June 13 launch event of NU Kids by Stork is private, and R.S.V.P. is required. R.S.V.P. to info(at)stork-baby(dot)com by Friday June 7.
About NU Hotel Brooklyn:
NU Hotel is inspired by the dynamism of Brooklyn and an urban style apartment. The Brooklyn boutique hotel offers modern, simple design, luxury amenities and exceptional service at the center of four great neighborhoods: Cobble Hill, Boerum Hill, Park Slope, and Carroll Gardens. NU Hotel is a member of the Independent Collection.
About Stork:
Located in Crown Heights, Brooklyn – STORK opened in 2011 to serve as a children's retail boutique selling exclusive children's clothing, shoes, and accessories for boys and girls aged 0-6 -- as well as educational toys, books, and eco-friendly household products for the entire family.
About The Independent Collection:
The Independent Collection is a growing collection of smaller, more intimate boutique lifestyle hotels located in truly unique neighborhoods of gateway cities across the US. The collection is founded on the principles of authenticity, leadership, generosity, and modesty. Hotels of the Independent Collection are created for the independently minded traveler.
About HHM:
HHM, formerly known as Hersha Hospitality Management, operates 115 hotels across the United States. It provides turnkey hotel management, asset management and receivership for properties with leading brand affiliations through Marriott, Hilton, Hyatt, Starwood, and Intercontinental Hotel Group. HHM also operates 14 independent hotels ranging from the AAA Five Diamond Rittenhouse Hotel in Philadelphia, to the oceanfront Postcard Inn in the Florida Keys. Its highly experienced team is accustomed to serving as a fiduciary to publicly traded companies, joint ventures, institutional real estate owners and private investors. Additional information on HHM can be found at hhmhospitality.com.