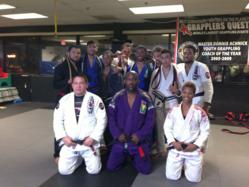 The stars are aligned - Nyjah Easton
Long Beach, CA (PRWEB) May 30, 2013
Brazilian Jiu Jitsu practitioners the world over have been waiting all year for this moment, the 2013 IBJJF World Championships. The IBJJF is leader in the sport for its prestigious, well-organized events, and the World Championships is no exception.
While some teams are sending well over 50 athletes, Lloyd Irvin Martial Arts will be sending 28 world-class competitors, from white to Black belt, males and females. Some are returning Champions, while others are seeking their first World Gold medal. It's sure to be a dramatic and epic tournament for all involved.
SPOTLIGHT
Nyjah Easton, 25, is Lloyd Irvin Martial Arts first ever World Champion, winning the tournament in 2008 as a purple belt. She's yet to snag the top spot since then, but this year she feels the "stars are aligned." With 5 total ladies in her bracket, she needs two wins to reach the first place podium and become Lloyd Irvin's first ever Black Belt World Champion.
DJ Jackson, 22, has made incredible progress in his young career. He's been at Black belt for only 10 months and has already defeated legendary competitors such as Lucas Lepri, Gabriel Vella, and Cyborg Abreu. DJ has won the Worlds the last two years at purple and brown belt, consecutively. This year, he'll have one of jiu jitsu's toughest divisions, middle weight, with fighters like Claudio Calasans, Clark Gracie, and last year's champ Otovia Sousa.
Sijara Eubanks, Willie Leonard, Roberto Torralbas, and Kenneth Brown will represent the brown belts for Lloyd Irvin Martial Arts. Willie, the team's most decorated athlete, is looking for his first title since purple belt in the ultra heavy division. Kenneth Brown, also ultra-heavy, is looking forward to a successful performance. Roberto, heavy-weight, will need to get past Brazilian standout, Jackson Souza, to win gold this and he's "more than prepared for the challenge." Sijara Eubanks, brown belt since February 2013, looks to claim the top spot at women's medium-heavy. After a no-show at last year's Worlds, she's ready for redemption.
Aarae Alexander, purple belt, is the lone returning champion for Lloyd Irvin Martial Arts, winning blue belt female feather weight in 2012.
Other representing the team, include white belt, Jammie Whitefield; blue belts, Malachai Edmonds, Shane Hill-Taylor, Cory Walker, Christopher Tran, Devon Delbrugge, Angelo Claiborne, Derrick Holmes, Eric Morales, Jonathan Connelly, Joseph Ruggerio, Joseph Formica, Todd Allmond, Alfonso Washington, Jr, Roya Darvishian, Monica Barlow, Rachel Ranschau, Crystal Bradley, and Katy Torralbas. Purple belts will include Leo Maggio, Tye Ryan Murphy, and Aarae Alexander.
The World Championships will begin May 30th and conclude on June 2nd, all at the Pyramid on the campus of University of California Long Beach.