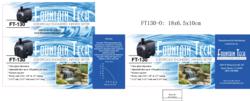 Santa Maria, Ca (PRWEB) May 30, 2013
Fountain Mountain, Inc. is happy to announce new box art for its Fountain Tech pumps, a line created by the company.
The president of Fountain Mountain, Michael Guista, says that the shift from a primarily retail company to a wholesale one requires the box art be designed well to help its distributors and retailers.
"I mean, we started in a friend's garage years ago. All we did was make little fountains and resell fountain pumps, but now we distribute thousands of them to companies across the United States," Michael Guista says. "We sell pumps to the biggest concrete fountain manufacturers in California."
The new boxes are cleaner in design with a new Fountain Tech logo. The picture of each pump, description of it, including dimensions and an important "pump curve," which tells how many gallons an hour a customer can expect at different heights, is included on each box. Also, each box now includes a retail-friendly bar code.
The Fountain Tech pump line includes pumps with a range of 40-8000 gallons per hour.
The new boxes should be available approximately July 1, 2013, when the next container of Fountain Tech pumps arrives.