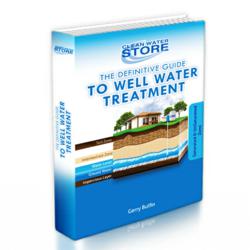 "I gave the Guide to my well driller and he selected and helped me install the right chlorinator for my well. The Well Water Treatment Guide was very helpful" - Frank Simmons, Alabama
Santa Cruz, CA (PRWEB) May 31, 2013
According to the U.S. Environmental Protection Agency, "EPA regulates public water systems; it does not have the authority to regulate private drinking water wells. Approximately 15 percent of Americans rely on their own private drinking water supplies, and these supplies are not subject to EPA standards, although some state and local governments do set rules to protect users of these wells."
Millions of families and businesses worldwide depend on high quality water from their water wells. Private ground water wells can provide clean, safe, potable water. However, well water can also become contaminated, leading to disease and illness. It is the responsibility of well owners to maintain and treat their well water when problems arise.
Well water treatment systems are now commonly used by millions of Americans, but many find it difficult to know how to integrate a water treatment system in to their existing water well. Now homeowners and well water drillers and pump contractors can have free access to The Definitive Guide to Well Water Treatment to easily understand and learn about the many options available on the market today.
"We have made this latest edition easier to read with more pictures, well water diagrams and charts. A lot of the topics covered were suggested by many of our readers over the years", reported Gerry Bulfin, President of Clean Water Systems & Stores Inc.
This guide is packed with easy-to-read, fascinating yet critical information that no well owner should be without. It explains how to identify the source of well water quality problems based on identifying the type of sediment, odor, or color, and has over 29 chapters covering a comprehensive list of water problems and common solutions.

How do I know if I need water treatment? Where do I start?
Which type of system should I buy for my particular water problem?
Well Troubleshooting Guide
How to Sanitize Pipes & Plumbing
How to Prevent Water Treatment Systems From Causing Low Pressure Problems
Treating for Coliform Bacteria
How to Remove Iron, Manganese and Odors
Alternatives to Chlorination: UV light, Ozone and Hydrogen Peroxide
Clean Water Systems & Stores Inc specializes in water treatment systems for contaminated well water in North America and has over 8000 customers in over 30 countries. The company provides custom easy-to-install whole house water treatment systems and commercial filtration plants in a large variety of different types and configurations including systems for removing iron, manganese, sand, odors, bacteria, turbidity and sediment.