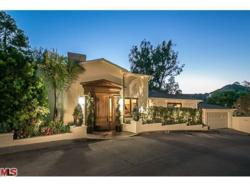 $100 million homes are becoming a fast-growing housing sector
Beverly Hills, California (PRWEB) May 30, 2013
SRE Design & Development, one of Southern California's most prominent luxury real estate investment firms, has today announced the dawning of a new world, with the birth of the $100 million housing category.
Los Angeles, Malibu, Beverly Hills – the names conjure images of sprawling estates and columned mansions. However, not until today has the Southern California area truly seen the meaning of luxury housing. $100 million housing is becoming not necessarily common, but certainly not the once-in-a-lifetime rarity it once was.
For instance, Petra Ecclestone recently paid $85 million for the 56,000-square foot Spelling Manor. Immediately, she hired a crew of 500 construction workers to complete a multimillion-dollar remodel of the property within nine weeks so it would be ready for her wedding.
"As further evidence of this emerging asset class," Jay Belson, CEO of SRE Investing remarked, "we are presently working with a preeminent development team that is constructing the world's first $100 million luxury estate subdivision. This 157-acre (63.5-hectare) hilltop estate in Beverly Hills will be transformed into the world's most exclusive and private residential enclave, featuring only six uber-elite mountaintop residences. While living in Beverly Hills is beautiful, these 30,000 to 40,000-square foot (2787 m² - 3716 m²) estates will boast unparalleled panoramic views of Los Angeles all the way to Malibu."
Of course, the new housing category isn't limited to the sunny beaches of Southern California. However, the area certainly has more than its fair share of ultra-valuable property. Witness the number of properties over $100 million currently on the market, including the Bel Air estate of Gary Winnick ($225 million) and the Woodside, CA, home that recently sold for $117.5 million.
While the $100 million home housing category is relatively new, Seth Phillips, COO of SRE Investing points out a few factors that can help potential investors or owners identify such properties in the area. One of the first factors is space – these homes typically exceed 10,000 square feet with ease. Another factor is the level of included amenities. "Posh" isn't quite enough to describe them. Some homes in this category include their own lighted tennis courts, multiple private screening rooms and the like.
Unique, attractive and not as rare as they once were, $100 million homes are becoming a fast-growing housing sector, and SRE Design & Development is leading the way forward.
To find out more about SRE Design & Development visit http://www.SREdesigndevelopment.com.
About SRE Design & Development: Headquartered in Beverly Hills, SRE Design & Development specializes in Los Angeles real estate investing. Clients are able to participate as owners, lenders or partners in investments.