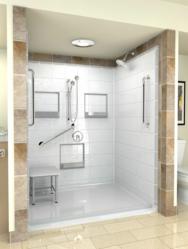 We now offer several handicap shower stalls designed for commercial and residential applications.
Denver, CO (PRWEB) May 30, 2013
A specialty bathtub company which focuses on bath products for the elderly and those with disabilities, announces handicap shower stalls for homeowners. According to Aging Safely, hydrotherapy walk in bathtubs and wheelchair accessible showers can typically be installed into traditional size bathrooms within residential homes.
For most people, taking a shower or bath is a task that goes without thought, or possibly even evokes pleasure. However, for some people doing relatively simple tasks such as entering a bathtub or shower can be incredibly difficult. Those that suffer from physical conditions that limit mobility can potentially benefit from a low step entry bathtub or shower stall with a seat.
Being able to sit during the bath isn't a luxury for some bathers, it is a necessity. The elderly can especially become prone to having falls in the bathroom, so often times it is important for them to sit due to instability or conditions such as vertigo. While there is no perfect solution to bathroom safety, the hydrotherapy walk in tubs and handicap showers can potentially help minimize the risk of bathers having an accident.
According to the company, the 30" x 60" wheelchair accessible showers will fit into most standard bathtub spaces. The thresholds go as low as .75" and can come with an optional wheelchair ramp when required. Additionally, these unique bathing appliances are ideal for nursing homes, assisted living facilities, hospitals and long term care centers. Aging Safely offers qualifying commercial organizations volume pricing and a dedicated account manager that works one on one with the company.
As people age, products like these will become more and more popular. It's very likely demand will increase dramatically due to the sheer necessity some people have for these appliances. Often customers are simply being proactive about their safety, modifying their homes to have certain safety features added that are conducive to aging in place and fall prevention. It's common for those who have mobility restrictions to install safety grab bars in several locations throughout the home and bathroom. Aging Safely specializes in ADA compliant safety grab bars that are traditional stainless steel, although they also offer designer grab bars that come in multiple styles and colors.
This specialty bathtub company supplies walk in bathtubs, safety grab bars and handicap shower stalls to all fifty states and Canada. Additionally they offer no cost shipping on several of their walk in tubs and roll in showers throughout the continental United States. For more detailed information on these unique bathing products, interested parties are invited to contact a representative for a consultation.
Contact Information:
Zach Wennstedt
1-888-779-BATH(2284)
info(at)Agingsafelybaths(dot)com