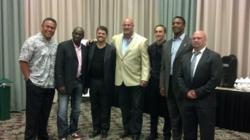 Phoenix, AZ (PRWEB) May 30, 2013
David Gergen, President of Pro Player Health Alliance (PPHA) and Gergen's Orthodontic Lab, is heavily involved with legendary NFL greats and spreading sleep apnea awareness throughout communities by taking these players to the general public on the national campaign titled "Tackling Sleep Apnea." Using player names to attract fans was a bold risk that has paid off with hundreds of people already treated and over 150 former NFL players as well.
"Spreading awareness at these events and screenings and through radio and television has been wonderful. I believe by spreading awareness we can save lives," said Gergen. This event and the events that will follow are co-sponsored by Gergen's Orthodontic Lab who will provide free oral appliances to qualified attendees. The goal of the event and national campaign titled "Tackling Sleep Apnea" is to generate as much awareness about sleep apnea and encourage attendees to get tested and diagnosed.
Most affected by sleep apnea are unaware they have it or haven't been educated enough to know how dangerous it is. The Centers for Disease Control and Prevention (CDC) reports that, "Insufficient sleep is now a public health epidemic with 50-70 million US adults suffering with a sleep or wakefulness disorder." According to the National Commission on Sleep Disorders Research, about 38,000 deaths occur in the US on an annual basis that are related to Sleep Apnea, making it the "Silent Killer." Medical and dental providers are diligently striving to "Wake America Up" to obstructive sleep apnea and the treatment that is available.
About David Gergen
David Gergen, CDT and President of Pro Player Health Alliance, has been a nationally respected dental lab technician for over 25 years. He received the award for "The Finest Orthodontic Technician in the Country" given by Columbus Dental in 1986. He also has been appointed chair of the dental wing of the American Sleep and Breathing Academy a national interdisciplinary academy dedicated to sleep training and education with over 60,000 members. David rolled out of bed on September 12, 1981 and had his career "ah ha" moment. He knew he was going to be an orthodontic technician and he knew he was going to help people all over the country to help treat their sleep disorders in partnership with their dentists. He has worked for some of the pioneers in the orthodontic and sleep dentistry fields. He was the personal technician for the likes of Dr. Robert Ricketts, Dr. Ronald Roth, Dr. A. Paul Serrano, Dr. Clark Jones, Dr. Harold Gelb, Dr. Joseph R. Cohen, Dr. Rodney Willey, Dr. Allan Bernstein, and Dr. Thien Pham. One of his proudest achievements is receiving The National Leadership award for Arizona Small Businesses.
About Pro Player Health Alliance
The Pro Players Health Alliance (PPHA) is an organization dedicated to helping former NFL players, through providing testing and treatment options for those who suffer from sleep apnea. In addition, the PPHA is dedicated to integrating education and raising sleep apnea awareness, in a fun and memorable way. In addition to the campaign, the PPHA is dedicated to testing and getting people treated who suffer from sleep apnea. The PPHA was created by David Gergen, President of Gergen's Orthodontic Lab and Former NFL legends.