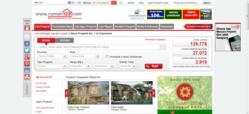 Rumah123.com reported dramatic growth in the number of leads generated for its property agents by a whopping 70 percent, resulting in a 157 percent increase in leads per agent.
(PRWEB) May 30, 2013
Reporting an astounding 77 percent growth in unique visitors in April 2013 compared to the same time frame last year, Rumah123.com, the country's No.1 property website, has certainly solidified its leadership position as the most preferred property website in Indonesia.
Shedding further light on this, Rumah123.com's General Manager, Andy Roberts said that the website which operates under the iProperty Group, owner and operator of Asia's No.1 network of property websites, also had significant growth in other key metrics as well.
He added, "The results further widen the gap between Rumah123.com's nearest competitors in Indonesia. In comparison to April last year, we saw a 61 percent increase in property agents who have turned to Rumah123.com to be their preferred marketing partner. This in turn has resulted in a 60 percent increase in property listings to our website. Property agents are turning to Rumah123.com as we deliver on our promise to deliver quality leads to them while providing them with the best platform to reach and engage with property buyers and investors more effectively," said Roberts.
Rumah123.com also reported dramatic growth in the number of leads generated for its property agents by a whopping 70 percent, resulting in a 157 percent increase in leads per agent.
"The year-on-year increase that we are seeing is indeed a testament that Rumah123.com is the preferred property portal of choice among http://www.rumah123.com Indonesian property buyers, investors and property agents. Rumah123.com continues to attract best-in-class property agents, real estate agencies and developers that are eager to capitalize on the unmatched opportunity to reach a wider target audience." added Roberts.
He attributed the accelerating year-on-year growth to a number of key factors.
"The significant growth in all key metrics is a clear indication that we are meeting the needs of our consumers as we provide them with the most comprehensive property related news and best property search experience. Secondly, our commitment in being the partner of choice for our customers by working together to grow their business is far exceeding benchmarks set by other industry players in the country. Lastly, our strong focus on innovation and mobile first approach has also played a significant role in making us a market leader in Indonesia," said Roberts
He added that Rumah123.com will continue to provide exceptional products and services that will meet the needs of both its customers and consumers.
"We remain committed to continue our unrelenting focus on delivering quality content, innovation and services. The fact that we're demonstrating such excellent growth, as well as user retention, is powerful evidence of the strength of the business and its usefulness to both our customers and consumers. Rumah123.com has certainly cemented its position as the trusted and preferred portal that property buyers and investors turn to." concluded Roberts.
About iProperty Group Limited (iproperty-group.com)
Listed on the Australian Securities Exchange, the iProperty Group (ASX:IPP) owns and operates Asia's No.1 network of property websites under the iProperty.com umbrella brand. Headquartered in Kuala Lumpur, Malaysia, the Company is focused on developing and operating leading property portals with other complementary offerings in Asian markets. It currently operates market leading property portals in Malaysia, Hong Kong, Macau, Indonesia and Singapore, and has investments in India and Philippines. With further expansion planned, the iProperty Group is continuously working to capitalise on its market-leading positions and the rapidly growing online property advertising market throughout the region. Along with 18 property websites across the region, the Group's portfolio also includes the first comprehensive regional commercial property website, CommercialAsia.com, as well as a regional property exhibition business and monthly property magazines in Malaysia and Indonesia.
iProperty Group Network of websites:

Malaysia: iProperty.com.my
Indonesia: rumah123.com and rumahdanproperti.com
Hong Kong: GoHome.com.hk
Macau: vProperty.com
Singapore: iProperty.com.sg
Commercial: CommercialAsia.com
India: in.iProperty.com
Philippines: iProperty.com.ph
Events: expo.iproperty.com
Luxury: iLuxuryasia.com