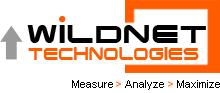 Noida, India (PRWEB) May 30, 2013
Wildnet Technology Pvt. Ltd., one of India's three leading SEO providers, is offering a complete solutions package that enables companies to quantify their performance and evaluate the metrics with the end purpose of maximizing profits.
"We made the process as simple as our tagline: to measure, analyze and maximize. Each of the requirements for a good SEO service is encapsulated by that tagline," said Wildnet Technologies CEO.
He said they are not using a single generic analytic software, which is essentially a hit-and-miss operation without customization. Instead, the company's team of expert will study the needs of the client before deciding on an all-inclusive measuring tool to gauge its current position, market activity and customer engagement.
"Using the customized metrics, we can help provide marketers insight into the profits of the existing SEO campaign. More importantly, we can help give more focus on where they should refocus their resources based on the weaknesses and strengths of their existing marketing strategy," he said.
Using analytic tools available, he said, PPC is easier to keep track, analyze and optimize because of ready data. But search engines are a harder nut to crack because the SEO company should not only be an expert in promotion but also possess the technical know-how to find patterns and behavior predictors in the seemingly random information.
He said this is the reason why most SEO campaigns fail because both the client and the service provider are so focused on achieving top ranking in major search engines like Google, Yahoo or Bing and equating that with success.
"What good is it if you are number one in Google but don't know what to do with it?" he said. "We have been in this business long enough that the ranks are no perpetual."
Although relatively young, Wildnet Technologies has turned heads after being named into the Deloitte's Technology Fast 500 Asia and Technology Fast 50 India after consistently posting positive revenues for the past five years.
Since it started in 2006, the company grew from a core group of four people into nearly 300 personnel with a 70% average annual growth rate. It is currently handling more than 500 accounts including the who's who in the Fortune 200 companies such as Microsoft and Virgin Mobile.
"Driving organic traffic to our client's site through branded and non-branded keywords is our main aim and to get there, we have to measure and analyze data in order to optimize the profits," the executive said.
ABOUT:
Wildnet Technologies is a Google Adwords Certified Partner and ISO 9001:2008 firm that was recognized by Red Herring Asia as one of the top 100 companies.