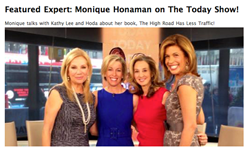 . . . honest, raw, funny, and emotional.
Los Angeles, CA (PRWEB) May 31, 2013
Monique Honaman, author of "The High Road Has Less Traffic: Honest advice on the path through love and divorce," announces plans to publish her second book in "The High Road Has Less Traffic" series. Book two, entitled, "The High Road Has Less Traffic … and a Better View," to be released July 2013, will provide insights on traversing through divorce, one of life's toughest journeys, observations on ways to make current relationships stronger, commentary on entering the dating scene, and anecdotes about love and life.
Within weeks of being told, "I don't love you, and I want a divorce," Monique Honaman promised herself, "I won't go through this agonizing event without turning it around and helping others learn from it." That promise has taken Monique places she never envisioned. In 2010, Monique released her first book, "The High Road Has Less Traffic: Honest advice on the path through love and divorce." Half memoir, half self-help title, the book is an inspiring roadmap for marriage, a positive exit strategy for "surviving" divorce, and a powerful life philosophy that supports superior decision making in all facets of raising a family.
Writing her book has led to speaking engagements (including a stint on The Today Show), more writing (including becoming a regular contributor to many top-notch divorce and relationship sites), and creation of a line of merchandise espousing "the high road has less traffic" philosophy. Monique's goal is to create a dialogue about relationships and divorce that helps people to understand that taking the high road is a much more effective way to handle life's ups and downs. "The biggest compliment I receive is when people tell me that reading my book is just like sitting down to have a cup of coffee with your best friend. It's honest, raw, funny, emotional, and full of perspectives to consider," said Monique. Book two promises to have more of the same and will contain 52 chapters, each containing a "Bottom Line" of questions and thought provokers conducive to a book club or self-study.
"It's amazing how the unplanned events in your life take you to places you never imagined you would be," stated Monique. "Like most people, I never 'expected' to be divorced. I never thought I would become an author, and certainly didn't expect to feel as if I am fulfilling a purpose in helping other men and women navigate relationships and divorce." My personal mission statement is, "Live purposefully. Think rightly. Serve generously. Forgive quickly," and these elements are embodied in my speaking and writing.
Monique speaks from personal experience. Married for 17 years, she never expected to become yet another divorce statistic in the US. Because of that experience, she feels comfortable speaking about all of the different things that divorce may bring, including life as a single parent, dating, re-marriage, blended families, co-parenting, and step-parenting. "The resources that are available to people dealing with all things divorce are unbelievable. No one has to go through this alone. Sites like HopeAfterDivorce.org provide incredible support. They help you to understand that it does get better, that you will laugh again, and that you will find happiness. I am thrilled to be able to partner with them as a writer," said Monique.
Monique A. Honaman is an expert contributor at HopeAfterDivorce.org, FamilyShare.com, LAFamily.com, CupidsPulse.com, The Huffington Post and eHarmony.com. She frequently speaks on topics related to relationships, love, and divorce, and was profiled on NBC's The Today Show in April 2013. Monique received her undergraduate degree from the University of Michigan, her Master's degree in Human Resources and Labor Relations from Michigan State University, and her Juris Doctorate from Albany Law School. She has received numerous awards, including being named one of the "40-Under-40-Up-and-Comers" by the Atlanta Business Chronicle, a "2007 Enterprising Woman of the Year" by Enterprising Women Magazine, a "2011 Women Business Enterprise National Enterprise (WBE) Star" by the Women's Business Enterprise National Council (WBENC), and a "2012 POW! Award" recipient by Womenetics.
Monique lives in Atlanta, Georgia, with her husband, Justin, and her two kids. In her free time, she enjoys being outside, traveling, boating, watching college football, reading books, taking photographs, rescuing dogs, and being a chauffeur for her two teens. For more information, go to her website at http://www.HighRoadLessTraffic.com, hopeafterdivorce.org or familyshare.com, and follow her on Twitter @highroadthebook or Facebook https://www.facebook.com/highroadlesstraffic. Click here to buy her book, "The High Road Has Less Traffic: honest advice on the path through love and divorce."