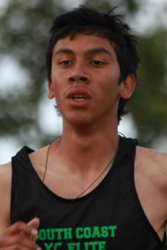 . . . cultivate a love of training.
San Clemente, CA (PRWEB) May 30, 2013
Track and cross country enthusiasts, regardless of age or fitness level, now have access to premier training through South Coast XC Elite, or SCXC. This award-winning organization, which previously focused primarily upon identifying, recruiting, and training dedicated athletes with the ultimate goal of competing for the USA National and Olympic Teams, is now expanding its reach to include team and individual coaching for athletes ages nine to adult with or without previous running experience.
Coach Mike Dunne has led athletes of SCXC to win multiple USA Cross Country National Championships and become top-ranked athletes at the state, national, and international levels. Still, he measures his success not by medals but by passion. "I measure my success as a coach not by an athlete's place or time, but by my ability to cultivate a love of training," states Coach Dunne. "I feel a great deal of satisfaction when our athletes give their best effort in competition and demonstrate the will to push themselves beyond self-imposed limits."
Coach Flores concurs that cultivating a passion for running is the primary goal of SCXC. "Mike has spent countless hours making me a better coach and a better person," he states. "Thanks to his guidance for the past four years, I am equipped to help people not only become better athletes but also find their passion for the sport."
SCXC offers team and individual coaching for athletes (9 years old to adult). Experience, prior running, or fitness is not required. With a good attitude and a budding desire, the program will take care of the rest. Stride mechanics, nutrition, total body conditioning, and race strategy/tactics are introduced at a progressive level, ensuring consistent improvement and results. Coach Dunne manages the clinic aspect of the program, while Coach Flores oversees the day-to-day training. Yoga, cycling, and swimming are also incorporated into the schedule to give athletes a comprehensive, multifaceted training program.
SCXC is looking for athletes of all fitness levels to join the summer youth cross country team. For more information on how to register your child for South Coast XC Elite, SCXC, please email Coach Flores at coachflores@socalxc.com
About Coach Mike Dunne
Coach Dunne is certified through the Amateur Athletic Foundation, California Interscholastic Federation, USA Track and Field, United States Olympic Committee, and the American College of Sports Medicine. He has a Bachelor of Science Degree in Biological Sciences from Cornell University and a Master of Science Degree in Exercise Physiology and Bio-mechanics from UCLA. He has competed and coached nationally and internationally and has coached and worked at over twenty-five coaching clinics over a span of three decades. Dunne was also a featured speaker in sports nutrition at the past two National Coaches Academies.
As an athlete, Dunne was an AAU distance runner from 1978-83 and a member of the USA National Cycling Team in 1988, 1992, and 1993. Dunne competed at the 1988 U.S. Olympic Cycling Road Trials and cycled in Europe from 1992-93. A four-time California state cycling champion on the road and the track and a member of the Olympic Development Program (1986-88), Dunne also competed in the Masters World Championships in 1992 and 1993 in Austria, winning the title in 1993.
About Coach Mario Flores
Mario Flores is the boys' distance track coach and assistant cross country coach at San Clemente High School in San Clemente, California. He has coached numerous athletes to school records, as well as two All Americans, one two-time All American, one individual CIF qualifier, and several national qualifiers. As an athlete, Coach Flores competed for San Clemente High School and Cal Poly Pomona. He has received numerous awards, including the CIF Pursuing Victory with Honor Award. Coach Flores is USATF level 1 certified and has completed the LA 84 advanced cross country clinic.