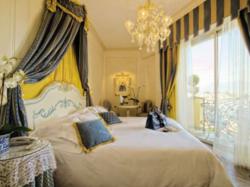 Thomson continues to feature a range of Platinum holidays to selected accommodation in picturesque locations offering a high standard of service, excellent facilities and fine food.
(PRWEB UK) 31 May 2013
The chic designer Hotel Fliana in Ischgl, Austria, offers new facilities for the summer season which include a large sunbathing lawn with panoramic view and outdoor pool, summer sports and activity program, guided adventure hiking tours several times a week and professional childcare six day per week at the Kids Adventure Club, organized by the local tourism board. Customers can experience this hotel from £769 per adult for seven nights, based on four sharing.
Hotel Villa a Palazzo Aminta, Stresa on Lake Maggiore, Italy (five-star) is another superb Platinum accommodation. In the millenarian village of Stresa, overlooking the splendid Borromeo Gulf, shines a small jewel, the Hotel Villa a Palazzo Aminta. It was the Admiral of the Italian Navy Francesco Capece, who bought the Villa at his retirement from the Royal Navy in July of 1918, and named it like his beloved wife Aminta. In those times it was a wonderful private residence with only seven rooms and a bathroom.
In 1918 Pavel Troubetzkoy, the great artist from a noble Russian family born in Intra, realized a sculpture for the Irish comedy writer and friend George Bernard Shaw that in 1926 came on Lake Maggiore and was the guest of the Admiral. In 1966 Liz Taylor and Richard Burton picked Villa Aminta for one of their many escapes of love.
The Zanetta family, owners of Villa Aminta since 2000, have restored the villa to its original splendour with a fairy tale feeling. After having conducted accurate historical research, the remodelling was done with elegance and taste, offering high standards and technology at the same time. Reinterpreting the concept of the family villa at the turn of the century with the care of each detail, the villa has been embellished with antique furniture, stuccos, chandeliers, precious wall papers, arabesques and oriental arches in homage to the historical relationship with the Venetian Republic, the "The Doorway to the Orient".
Villa Aminta is now a five-star luxurious hotel, immersed in flowering azaleas and delicate scents, with the conception of style and hospitality that is typically Italian, reflecting the refined delicacy for art and taste which has been sought after by the Zanetta family. With extensive facilities of spa and beauty treatments, fitness room, French bowls, tennis, water skiing and private boats, customers can stay at the Villa Aminta from £1174 per adult for seven nights.
An alternative location to experience a Platinum holiday from Thomson can be discovered at Hotel Astoria located in Seefeld, Austria. The hotel provides a variety of facilities to indulge in ranging from live music and cocktail evenings, guided walks, to relaxing 'Relax and Refuge' spa and relaxation area. Stay here for seven nights from £860 per adult, based on four sharing.
Complimentary access to airport lounges in the UK as well as extra luggage allowance on Thomson Airways is also included. All packages include flights with a choice of 17 UK airports, transfers and accommodation provided as standard. To find out more information or to book a luxury holiday contact Thomson Lakes and Mountains on 0871 231 2256 or visit http://www.thomsonlakes.co.uk.