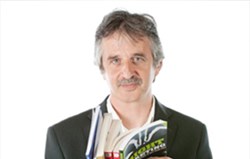 'Small businesses are simply incompatible with larger businesses – they make purchasing decisions in completely different ways
Manchester (PRWEB UK) 30 May 2013
Business growth expert, Robert Craven, believes smaller businesses are routinely insulted by employees from larger companies, who fail to tailor their approach to the needs of smaller organisations.
He uses an article published on Find the Edge today to set out where large businesses go wrong, and offer an insight into the perspective of small business owners.
He said: 'Small businesses are simply incompatible with larger businesses – they make purchasing decisions in completely different ways.
'Most smaller businesses are smaller because they have chosen to be. Corporates commonly assume that small businesses are basically scaled down versions of big businesses.
'This is wrong. Frogs are different to small crocodiles!'
Craven suggests larger companies that want to interact and work with smaller companies should invest time in understanding the needs of these companies, and treat them with respect.
He continues on to provide 19 pieces of simple advice for corporates looking to sell their services to smaller companies.
These include: 'I cannot be crammed in with the 4 million other diverse and vibrant small businesses in the UK.'
'I don't actually have to buy from you now, or ever – remember this. If you gain my trust, and make it easy for me to buy from you, I'm far more likely to do so.'
'Don't be a numbers jockey, instead focus on becoming a trusted adviser to me.'
The article can be viewed in full here: http://www.findtheedge.co.uk/leadership/strategy/dont-call-me-an-sme.
Robert Craven was labelled as 'The Entrepreneurship Guru' by the Financial Times, and has glowing endorsements from a variety of household names like Sir Richard Branson. He has authored several books, and is a business growth expert. More about him can be read here: http://www.findtheedge.co.uk/expert-panelist/robert-craven.
Kenny Goodman, founder of Find the Edge: "If you work for a large organisation, and want to make the most out of your relationships with smaller businesses, this article is essential reading.
"Robert pulls no punches, and explains exactly how most small business owners view the tactics and methods of larger companies.
"Following on from our enlightening two part interview, which is still available, it's great to get more of Robert's ideas and thoughts onto the site."
Find the Edge is a website where thought leaders and business experts contribute valuable content to help others in the business community.