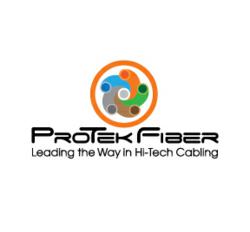 Hagerstown, MD (PRWEB) May 31, 2013
One of the leading fiber optic installation companies in the U.S., ProTek Fiber is pleased to announce the company has been recognized as a Certified Elite Installer (CEI) by ICC. The certification acknowledges ProTek Fiber as an exclusive, structured cabling installation partner of ICC. Elite Installers receive select benefits and discounts directly from ICC.
To meet the requirements of a CEI, at least one ICC-trained Master Technician must be on staff. ProTek Fiber Project Manager/Technician Jason Horst and Technician Derek Smith were trained by ICC and met all qualifications to install, test and document quality structured cabling solutions to comply with TIA/EIA performance standards and industry codes. Both Horst and Smith received 100% scores on their tests.
As a CEI, ProTek Fiber is eligible to offer a 15-year Performance Limited Warranty on any structured cabling installation supported by ICC. The entire system must use ICC products to guarantee performance and qualify the warranty. ProTek Fiber may also offer a Lifetime Performance Limited Warranty on structured cabling installations supported by ICC. The entire system must use ICC products, and a Master Technician must supervise the installation and submit to ICC for site verification. ProTek Fiber will also receive exclusive privileges, including project discounts, priority shipping and direct support from ICC sales teams, as part of the certification.
"As a Certified Elite Installer, ProTek Fiber will continue to offer our customers unparalleled, professionally installed and certified structured cabling services," says Horst. "Every system will be installed with a guaranteed warranty and extra confidence knowing it's backed by this exclusive program."
About ProTek Fiber:
ProTek Fiber is a leader in providing highly technical structured network cabling and fiber optic solutions in Maryland, Pennsylvania, West Virginia and Virginia. From new installations to changing existing cabling, ProTek Fiber has the certifications and experience to design and install the physical-layer infrastructure to connect businesses to the communications systems of today and tomorrow. Their mission is to establish long-term customer relationships by exceeding expectations and earning trust through outstanding performance. To learn more, visit their website.
# # #