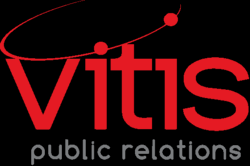 Bigger doesn't necessarily mean better in PR as smaller specialist PR teams can often provide senior teams that many clients prefer.
(PRWEB UK) 30 May 2013
Vitis PR has secured an impressive range of online and offline exposure for B2B and technology start-ups and SMEs that would rival many leading UK PR agencies.
Vitis PR's team of B2B and technology specialists has achieved some outstanding coverage for its clients over the first five months of 2013, including a television appearance for its online mobile accessories retailer on ITV's 'This Morning' and a mention in The Sun plus securing space for its software quality client in The Guardian, The Telegraph and The Times to name just a few.
The Vitis PR team built on its 2012 coverage successes through its close working relationship with a number of online, print and broadcast journalists, helping the agency secure print coverage in national newspapers, such as the Financial Times and trade titles including Internet Retailing, Retail Digital, Direct Commerce, Mobile News, M2M Now, New Energy World Network, ComputerworldUK, Developer Tech and Telecoms TV.
2013 has also seen the team secure a host of speaking opportunities for its clients at events such as Internet Retailing Expo and Retail Week, as well as managing all PR activity for a successful Kickstarter campaign for a new 3D scanner.
Ranbir Sahota, Founder and Director of Vitis PR, said: "Bigger doesn't necessarily mean better in PR as smaller specialist PR teams can often provide senior teams that many clients prefer.
"As a small team, it is not unusual for each of us to be on the phone to journalists building new relationships and spotting opportunities on a daily basis, which may be why securing fantastic exposure is something we, as individuals and a team, really do excel at."
Through its search arm, WebSearchOne, Vitis PR started 2013 with a number of new SEO client contract wins, including a concrete provider in Cheshire, a nanny search agency, a personal grooming company, a health and beauty clinic, and a double glazing specialist in Surrey.
"Through our SEO consultancy offering, we are bringing our PR expertise to search and this has helped to set us apart from other agencies offering SEO services," concluded Ranbir.
For more information on the range of services Vitis PR offers, visit http://www.vitispr.com.

Notes to Editors:
About Vitis PR
Vitis PR is a specialist B2B public relations agency, delivering high impact campaigns in some of the most competitive markets in the UK and overseas. Its clients benefit from an experienced all senior team, that is passionate about delivering successful, profile-building PR activity for start-ups and small to medium sized businesses (SMEs) right through to listed companies.
An award winning technology PR agency, Vitis PR won gold in 2007's CIPR New PRide Awards for Outstanding Small Consultancy and went on to win silver at 2009's CIPR New PRide Awards for its work with the West Midlands ICT Cluster.
Vitis PR's consultants each have at least seven years of PR experience from either consultancy, in-house or journalism backgrounds. Unlike traditional PR firms, Vitis PR is virtual and its cloud-based business model minimises overheads, meaning it can provide clients with high quality yet affordable PR.
For further information, contact Vitis PR via info(at)vitispr(dot)com or visit the website http://www.vitispr.com.