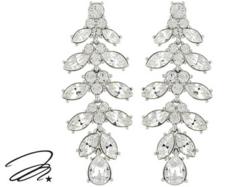 Marilyn Monroe is known for a beauty and style that translates seamlessly across generations
KNOXVILLE, Tenn. (PRWEB) May 30, 2013
On Saturday, June 1 Marilyn Monroe would have celebrated her 87th birthday. This blonde bombshell left her mark on America, and Jewelry Television is commemorating her unforgettable sense of style by featuring their exclusive Marilyn Monroe Jewelry™. This collection is inspired by the life she lived both on and off the red carpet.
"This jewelry embodies the essence of Marilyn's personality," said Jill Johnson, vice president of marketing. "Many of the pieces are reproductions of jewelry she actually wore, while others are representative of her glamorous life."
This iconic collection features more than 250 pieces of fashion jewelry ranging from $19.99 to $329.99. Each piece is richly covered in 14 karat yellow gold or brilliant rhodium and set with sparkling crystals and gems.
The collection features crystal dangle earrings that are replicas of the ones Marilyn wore when she famously sang "Happy Birthday Mr. President" to John F. Kennedy at Madison Square Garden. In addition, this collection features replica emerald earrings, which were a gift from Frank Sinatra, and casual gold hoops that were inspired by some she often wore.
"Marilyn Monroe is known for a beauty and style that translates seamlessly across generations," Johnson said. "It is only fitting she has an official collection of jewelry to represent her well."
Marilyn Monroe was born on June 1, 1926 in Los Angeles. Her original name was Norma Jean Mortensen, but after a troubled childhood and a struggle to break into the film industry, she changed it to Marilyn Monroe. She had a great love of movies, music and fashion. Marilyn Monroe's life came to a tragic end on Aug. 5, 1962 – the young age of 36 – due to a drug overdose.
JTV is the exclusive national retailer of official Marilyn Monroe Jewelry™ following a partnership between Multimedia Commerce Group and Authentic Brands Group in 2012. Marilyn Monroe Jewelry™ is available at http://www.jtv.com/Marilyn.
About Jewelry Television®
Jewelry Television® (JTV) is one of the largest multichannel retailers of jewelry and gemstones in the U.S. appealing to fashion-conscious women, jewelry-making enthusiasts and private collectors. The privately-held shopping network broadcasts high definition programing, 24 hours a day, seven days a week, to more than 80 million U.S. households. Committed to consumer education, the network employs numerous Graduate Gemologists and Accredited Jewelry Professionals. JTV.com offers the most comprehensive jewelry and gemstone Learning Library on the internet, and is the third largest jewelry website according to Internet Retailer's Top 500 Guide for 2012.
####