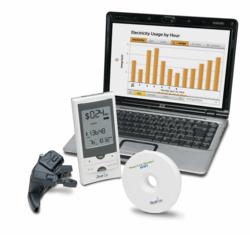 Syracuse, NY (PRWEB) May 30, 2013
BlueRock Energy, Inc., the premier provider of electricity, natural gas and green energy products and services to businesses and residents in New York State, today introduced an affordable and reliable energy monitoring unit that will help energy consumers gain more control over their electricity consumption.
With the cost-effective PowerCost Monitor™, customers can now:

See in real-time how many kilowatts their offices, buildings or houses are using
See how much they are spending per hour on energy
Use that information to make easy and quick adjustments on their energy consumption
Reduce their monthly utility bills by applying the knowledge gained of their energy usage
"BlueRock Energy, a leading energy services company in New York State, is also taking the lead in NY to offer innovative energy monitoring products," said Phil Van Horne, CEO of BlueRock Energy. "Our ongoing mission is to give our clients the best services and tools that inform them on energy consumption and pricing in real time. The PowerCost Monitors are easy to use and extremely cost-effective. When energy consumers implement simple energy-saving techniques based on the real-time information, they can see a dramatic decrease in their energy bills."
Independent studies have confirmed that customers using PowerCost Monitor products can save up to 18 percent in energy consumption by turning their current energy usage patterns into energy saving practices.
"Energy consumers can utilize the PowerCost Monitor to measure how much energy is being consumed by specific appliances and various lighting fixtures," said Jerry Schavone, director of Business Development of BlueRock Energy. "The PowerCost Monitor is capable of isolating the cost of running certain appliances or lighting fixtures, providing our clients the ability to make specific adjustments to how power is purchased and consumed."
PowerCost Monitor products are available for direct purchase at http://www.bluerockenergy.com/energy-monitor. Businesses interested in installing the products should contact their local BlueRock Energy Supply Consultant at (866)-815-2343 to receive a BlueRock Advantage Discount.
About BlueRock Energy
BlueRock Energy is a privately held energy services company that provides electricity, natural gas and renewable energy products to more than 14,000 customers across New York State. The team at BlueRock provides businesses and residential customers with unique energy plans designed to keep it simple while reducing costs. Customers can also rest assured that the company's renewable energy products come from 100 percent New York State generated sources.
To learn more about BlueRock Energy, please visit http://www.bluerockenergy.com.