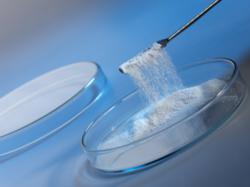 Contipro will provide information about the nanofibers of native hyaluronan and a catalogue of hyaluronan specialities.
(PRWEB) May 30, 2013
Leading scientists from around the world specializing in hyaluronan in relation to tissue engineering, aging, regenerative medicine, and the treatment of tumours are to meet at the International Society for Hyaluronan Sciences (ISHAS, 2–7 June, Oklahoma City). Contipro, as one of the world's top centres for the chemistry and application of hyaluronan, will be active at the conference by delivering scientific presentations and running a stand with information about the nanofibers of native hyaluronan and a catalogue of hyaluronan specialities. The catalogue offers, among other things, oligosaccharides and a whole range of chemical derivatives of hyaluronan, some of which are patented. These substances will have a role to play in research into new medical applications in particular.
Hyaluronan, or hyaluronic acid, is an autologous substance widely used in cosmetics and pharmaceuticals. It is a compound which provides skin hydration, ensures the smooth movement of joints, and is also found, for example, in the eye. While it is almost everywhere in the body, the overall amount is not that great. All the more interesting are its potential applications, varying according to the length of the chain of this substance (its molecular weight). Whereas hyaluronan with the longest molecules is used, for example, for intra-articular injections or cosmetics, the shortest chains are undergoing intensive examination due to their ability to serve as a carrier for the targeted delivery of drugs and to become a powerful tool in the fight against cancer.
We are confident that new knowledge applicable in treatment will at least partially alleviate the pain caused by the devastating tornado near the site of the ISHAS conference.
Contipro is an innovative company from Europe primarily focusing on bio and nanotechnology. There are more than 90 researchers employed in Contipro's R&D laboratories and our research is backed by twenty years of experience.