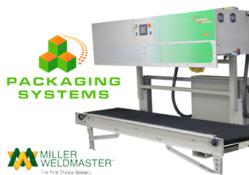 Navarre, OH (PRWEB) May 31, 2013
Miller Weldmaster is now helping companies optimize and streamline their bag closing processes with its PS150 and PS400 packaging systems. The PS150 and PS400 are specifically designed to close bags with fold, step-seal, double-fold or slit-fold-fold seams. Both machine lines incorporate features which minimize the production time needed for bag closing and are built to optimize speed, accuracy, and efficiency in bag sealing operations. The packaging systems are easily assimilated into either automatic filling lines or manual feed systems.
The PS150 and PS400 both feature a controlled line speed matching system, allowing for synchronized operation with the converting line. Precision folding systems are built onto each machine, allowing for clean-straight folds, and a quick change folding system is available for performing any fold size and type. The PS150 and PS400 weld polywoven, thermoplastic, and paper bags without glue, eliminating any need for use of consumables. Additionally, both packaging systems incorporate digital controls for timely production initiation and a recipe management system for instantaneous access to multiple batch options.
The PS150 and PS400 are specifically designed for producers of dry, free-flowing products. Customers in industries which use bags to package their product, especially the agricultural, chemical, animal feed, and pet food industries, will greatly benefit from these packaging systems' bag sealing capabilities. Each packaging system can be customized to meet all production demands. Miller Weldmaster is committed to meeting customers' every production demand by offering innovative industrial fabric welding solutions and world-class customer service.
About Miller Weldmaster
Miller Weldmaster, the first choice globally of all industrial fabric welding solutions, has offered rotary hot air, hot wedge and impulse welding equipment to the industrial fabric and thermoplastics industries for forty years. For the fabrication and automation of various products from awnings to truck tarpaulins, to flexible air ducting, Miller Weldmaster has developed many of the first advancements in heat sealing technology. The company's historical record of industrial "firsts" demonstrates its ability to research, design, and build solutions using the most current and innovative features of the industry. Having sold machines in over 100 nations around the world, and with distributors in 20 countries, Miller Weldmaster Corporation is a leading international manufacturer and provider of solutions for plastic welding machines, with a commitment to customer satisfaction. The company is headquartered in Navarre, Ohio, USA.