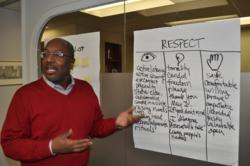 Religious illiteracy is an epidemic and it fuels bullying.
New York, NY (PRWEB) May 31, 2013
The Tanenbaum Center for Interreligious Understanding is offering a six-day intensive professional development course for educators, Cultivating Global Citizenship, on July 22, 23, 24, 25, 30 and 31 at New York University's Center for Spiritual Life.
The course is open to all educators. Registration (including materials) is $200 per participant. An additional $125 fee applies for New York City Department of Education teachers registering for P-credit through ASPDP.
"Religious illiteracy is an epidemic," said Mark Fowler, managing director of programs at Tanenbaum, "and it fuels bullying. Although educators are working to make diverse classrooms more inclusive, they often ignore the religious or non-religious component of identity. Tanenbaum's Cultivating Global Citizenship course prepares them to do so by offering solutions for ending bias, resentment and prejudice in the classroom."
Cultivating Global Citizenship helps participants:

Design lessons and units that incorporate religious diversity, present accurate views of religion and culture, and align with Common Core standards across content areas.
Understand the legal guidelines for including the topic of religion in classroom content.
Assess the awareness and understanding of religious and cultural diversity among students.
Evaluate school-wide diversity and inclusion efforts.
To register, or for more information visit http://tanenbaum.org/cgc or call 212.967.7707.
The Tanenbaum Center for Interreligious Understanding is a secular, non-sectarian organization that promotes mutual respect with practical programs that bridge religious difference and combat prejudice in areas of education, health care, workplaces and armed conflict. We reach teachers and students, employers and employees, doctors and patients, and peacemakers combating armed conflict.