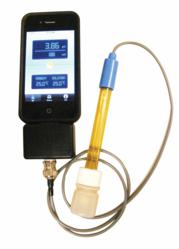 Vernon Hills, IL (PRWEB) May 30, 2013
On-the-go consultants and others working in the field now have a mobile option for measuring pH wherever they sample. The pH Module with pH electrode for iPhone®, iPad®, and iPod® from Cole-Parmer converts any of these devices into an easy-to-use pH meter.
Users simply plug the PH-1 module into their mobile device to measure and record values, date and time, and GPS location. They can take pH and ORP measurements utilizing any electrode with a BNC connector. Easy on-screen prompts indicate how to install the free app, connect an electrode, select temperature compensation, and calibrate. The display shows pH measurement, mV reading, ambient temperature, and ATC temperature. The module provides automatic and manual temperature compensation shown in degrees Celsius or Fahrenheit.
Data can be transferred conveniently by e-mail or through a USB connection. The pH meter calibration may include up to 99 points. The module is sold as a module only or as a module with a pH/ATC electrode.
To view this new technology that enhances mobility, go to ColeParmer.com/20107 or call 800-323-4340 for more information.
Cole-Parmer has been a leading global source of laboratory and industrial fluid handling products, instrumentation, equipment, and supplies since 1955. Our product lines, including popular brand names such as Masterflex®, Oakton®, and more, are sold through company-owned customer channel outlets and a strong network of international dealers. We also feature an ISO-17025-accredited metrology lab for instrument calibration and repair. Cole-Parmer responds with excellence to customer needs, and offers application expertise and technical support. For more information, contact Cole-Parmer, 625 East Bunker Court, Vernon Hills, IL 60061. In the US, call 800-323-4340. International customers, call 847-549-7600. Visit us at ColeParmer.com.