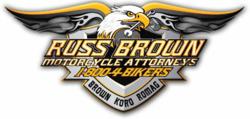 Los Angeles, California (PRWEB) May 31, 2013
The warmer summer weather ushers in a wonderful motorcycle season and even more motorcyclists hit the roads. In fact, there are more vehicles of all kinds on the road in summer, as families embark on vacations and day trips. As such, it is especially important to take extra measures to stay safe on the road this summer from the lawyers at Russ Brown Motorcycle Attorneys.
Motorcycle Safety Tip #1: Motorcycle Maintenance
Before hitting the open road this summer season, take the time to ensure that the motorcycle is properly maintained:
A. Check the tire pressure,
B. Inspect the wheels and rims for cracks or dents,
C. Inspect cables and hoses, looking closely for kinks, frays or folds,
D. Test the tail lamp, head lamp, brake lights and turn signals
E. Check oil and fluid levels
F. Review the condition of the chassis and stands.
Motorcycle Safety Tip #2: Wear Appropriate Safety Gear—Even in Summer
In warmer weather it may be tempting to skip some of the hot, bulky safety gear, but the fact is that safety gear can save lives. Helmets help reduce the risk of head injury by 69%. A face shield, wrap-around glasses, or goggles will help maintain visibility.
Always wear clothing that provides some level of injury protection. Upper body clothing should include bright colors or reflective materials, so that other motorists can spot the motorcyclist. Full fingered gloves with a non-slip surface to help maintain a firm grip and can also prevent abrasions on the hands in case of a crash. Leather boots will protect the riders feet in the same way.
Motorcycle Safety Tip #3: Never Drink and Drive
Never drive a motorcycle after drinking. Alcohol greatly impairs one's ability to safely operate a motorcycle.
Motorcycle Safety Tip #4: Be Extra Cautious on the Road
Officials say that motorcyclists face higher risks than other drivers, and that both groups must stay alert in order to save lives and prevent injuries. Motorcyclists can take extra steps to minimize risks on city streets and highways by using roads suited to skill level, watching for unexpected actions by other drivers and adhering to the posted speed limit. Avoid tailgating and riding between lanes where it's illegal. Lane splitting, even if legal where you're riding, can be dangerous due to uneven pavement or other vehicles changing lanes so use extreme caution.
Safety Tip #5: Consider Taking a Motorcycle Safety Course
It is always a good idea to take a motorcycle safety course. These courses can help avoid dangerous accidents and teach safe ways to maneuver around road debris, obstacles, and other motorcycle hazards.
Safety Motorcycle Tip #6: Ride like life depends on it - cause it does!
The motorcycle lawyers at Russ Brown Motorcycle Attorneys love riding, connecting with fellow riders, and introducing more motorcyclists to BAM, Free Roadside and Legal Assistance for Motorcyclists program. To more about BAM or our law firm, call 1-800-4-BIKERS on the web at http://www.russbrown.com.
Russ Brown Motorcycle Attorneys, fighting for injured motorcyclists for over thirty-five years.