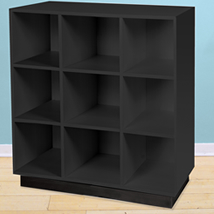 "These new Island displays can be used together to create an entire new look for the store or separately to add a new category product. They are perfect for all merchandise adds Julie Mitchell, Marketing Manager
Des Plaines, IL (PRWEB) May 31, 2013
With display space at a premium in most retail spaces, Specialty Store Services has added several new displays options with that in mind. Many of these new displays have many merchandising solutions and can be found in our Spring 2013 catalog or on our website. All these new displays are available for immediate delivery.
The Wood Island Displays are available in 3 sizes as well as 3 colors. The Wood Island Display is a Melamine cube that creates an elegant and functional area in a store. The Cube Display is available in black, white and maple to compliment any color scheme. The Cube Island Display is 42 inches high so it makes for the perfect display area. Each cube is 12 inches by 12 inches to hold almost any items sold. The unit is finished with closed ends so there is never a worry that items will fall off the shelves.
The Wood Island Display is available in three different sizes:
· Single Sided Wood Island Display is 38 inches wide x 24 inches deep x 42 inches High.
· Double Sided Wood Island Display is 38 inches wide x 18 inches deep x 42 inches High.
· Grand Double Sided Wood Island is 51-1/2 inches wide x 24 inches deep x 42 inches High.
"These new Island displays can be used together to create an entire new look for the store or separately to add a new category product. They are perfect for t-shirts, purses, shoes or giftware," adds Julie Mitchell, Marketing Manager for Specialty Store Services.
The top of the wood display can be turned into the perfect selling area. There is enough space to use Jersey Forms to Handbag Displays to display the newest fashions. Acrylic Shoe displays to showcase product in the cubes. Riser Sets to give the giftware products a better visual. The Wood Island Display has many different merchandising functions and SSS is sure that it does not disappoint.
For more information, to request a catalog or purchase supplies and displays, please visit the Specialty Store Services website.
About Specialty Store Services
Specialty Store Services, a second-generation family owned business, offers everything necessary to operate a thriving retail store, from logistical solutions and retail supplies to custom and stock fixtures. The large inventory of retail supplies and displays available include lighted showcases, shopping bags, pricing and tagging guns, garment racks, mannequins and security systems. Over the last 25 years this service-driven company has cultivated relationships with global partners while developing the expertise and knowledge required to provide competitive prices, outstanding customer service and quality products.