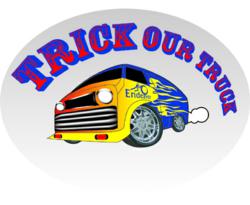 Atlanta, Georgia (PRWEB) May 31, 2013
Endeavor, the leading provider of outsourced professional services for carriers, service providers, and VARs, is pleased to announce the sixth annual "Trick Our Truck" contest, which began in 2008 to commemorate the anniversary of its monthly newsletter, "Endeavoring."
As with previous years, contest participants will be sent a foam Endeavor van and asked to decorate it however they choose, provided it prominently features the company logo and is in good taste. A panel of Endeavor judges will review digital photos of contest entries and choose the top ten designs which will be featured in a future edition of Endeavoring. Readers will then vote on the finalists to determine the winner.
Starting Friday, May 31, 2013, those who are interested in participating in the contest can visit http://www.endeavortelecom.com/trickourtruck for full contest details and entry instructions. All registrations must be completed by Friday, June 28, 2013, and uploaded photo(s) for each entry must be received by 11:59pm EDT on Monday, July 15, 2013 in order to be considered for the contest. A complete copy of the official rules and guidelines is available at Endeavor's website.
First prize will be two round-trip tickets on Delta airlines. Second and third place winners will receive American Express gift cards for $250 and $100 respectively.
"I am so excited to see the entries this year," says Jennifer Baron, Chief of Staff at Endeavor and contest chairperson. "It seems that each time we have the contest, the creativity exhibited by the contest participants just keeps getting more exceptional. I challenge each Endeavoring reader to step up your game!"
For full contest details, including sign-up and complete official rules and guidelines, go to Endeavor's home page http://www.endeavortelecom.com, and click on the "Trick Our Truck" icon.
About Endeavor
Headquartered in Atlanta, GA, Endeavor is the leading provider of outsourced professional services for carriers, service providers, systems integrators, VARs, and equipment manufacturers. Endeavor's private label wholesale professional services include: Field Services, such as inside wiring & equipment installation; Order Fulfillment Logistics - equipment configuration, staging, testing, and shipping; and Tier I & II operations and technical support. Endeavor's field organization consists of more than 9,000 highly trained and certified technicians throughout North America, including all of the U.S., Canada, Mexico, and Caribbean. For additional information, please visit Endeavor on the web at: http://www.endeavortelecom.com/.
Endeavor Contact:
pr(at)endeavortelecom(dot)com