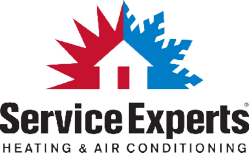 The majority of the utilities in our 84 U.S. markets are offering rebates from $250 to $2,500 for customers who buy new, energy-efficient HVAC equipment."
Dallas, TX (PRWEB) May 31, 2013
With the first day of summer less than one month away, it's still possible to save from $1,600 to more than $4,000 when replacing an outdated air condioning system this spring. The key is combining local utility rebates and federal tax credits with manufacturer rebates and special installation discounts.
"The majority of the utilities in our 84 U.S. markets are offering valuable rebates for customers who buy new, energy-efficient HVAC (heating, ventilation, air conditioning) equipment," explained Dave Moody, Service Experts Heating and Air Conditioning, America's largest HVAC service brand.
"These rebates range from $250 to as high as $2,500, so it is definitely worth checking into" he said. "Homeowners can also combine those savings with a a federal tax credit of up to ten percent of the cost of new, energy-efficient HVAC systems. That credit will be given when filing 2013 federal income tax returns."
From now until mid June, Service Experts is also offering its own incentives to help homeowners save cool cash on a new Lennox® High-Efficiency home comfort system. Homeowners who purchase this unit can choose a rebate (between $1,050 and $1,200) or 12-months deferred financing.
Service Experts recommends replacing home heating and cooling systems after ten to fifteen years of service, Moody said, noting that replacing the systems with the a new one also means year-round energy savings. "The Lennox system can save up to 50% annually on energy bills, which can also mean thousands of dollars more going back to the family budget, not to the utility company."
Visit the Service Experts website to contact the local branch, which will have a full break-out on all available rebates, discounts and credits available per city.
Service Experts Heating & Air Conditioning, based in Dallas, Texas, is North America's largest heating and air conditioning brand, with over 108 locations serving more than 2,100 homes and businesses per day. Service Experts branches provide heating repair, air conditioning repair, indoor air quality sales, HVAC system sales and installation, HVAC maintenance and HVAC repair service for both the residential and commercial HVAC markets. Find Service Experts Heating & Air Conditioning at on.fb.me/serviceexperts or at ServiceExperts.com.