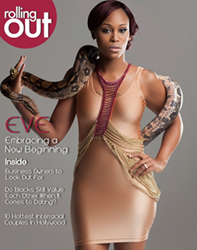 I have to learn to be OK with all the decisions that I make.
Atlanta, GA (PRWEB) May 30, 2013
In this week's cover story, rapper Eve Jihan Jeffers is so confident.
"Eve never backs down from a challenge. Her fearlessness became evident during our interview and photo shoot in downtown Los Angeles. Presented with the task of holding a boa constrictor, Eve lifted the 8-foot-long, 60-pound reptile and placed it around her neck without hesitation," rolling out's music editor Amir Shaw shares.
The Philadelphia native has enjoyed a 13-year career in music, and she's shown there aren't many things on this planet that can deter her once her mind is made up. She recently launched a new label, released a new album, Lip Lock, and found love.
Visit rollingout.com to read the interview in its entirety and get all the details about the raptress. Be sure to check out the exclusive photo shoot and video footage with celebrity photographer DeWayne Rogers.
About Rolling Out Magazine:
Rolling Out, the nation's largest free urban weekly, is a digital and print magazine that focuses on the black experience in response to entertainment, politics, fashion, culture, sports and lifestyle points of interest. Headquartered in Atlanta, Rolling Out is positioned as the voice for the African American experience, using its newspaper as a platform in the marketplace to express urgency for education reform, and to document entrepreneurial endeavors and other relevant issues in the Diaspora. For information on rolling out, please log on to rollingout.com.