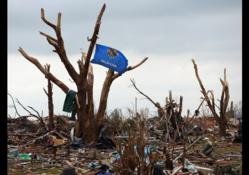 Our hearts & prayers go out to those affected by this tragedy…The Gents Place & its members are committed to helping those in need to rebuild their lives and communities, says Ben Davis owner & CEO of The Gents Place.
(PRWEB) May 30, 2013
On May 20th, many Oklahomans' worst nightmare became reality as a massive 1.3 mile wide tornado ripped through the Moore area, flattening everything in its path. Twenty-four people lost their lives, while over 200 were injured and many left with absolutely nothing. The Gents Place is teaming up with Seven Marketing Group to give back to those affected by this tragedy.
On Saturday, June 1st there will be a donation truck set up next to Smash Burger in The Shops at Starwood (located at 6975 Lebanon Rd. Frisco, TX 75034) from 8am - 6pm accepting donations for the families in need. Please check the local news sites for a long list of things that are most needed, including basic toiletry items, non-perishable food items, and clothing. The loaded truck will be driven to Oklahoma on Sunday and dispersed to those in immediate need.
For more information or how to get involved, contact Jennifer Berry at jberry(at)thegentsplace(dot)com
About The Gents Place
Founded in 2008 by Ben Davis, a frustrated guy who hated getting his haircut, The Gents Place offers men's grooming and lifestyle products and services in a masculine, yet relaxed country club type environment. They offer men's hair services, hand and foot repairs, straight razor shaves, massages, shoe shines and more. Frequently referred to as America's Premier Men's Grooming and Lifestyle Club with locations in Texas (Dallas, Frisco) and Kansas (Leawood), The Gents Place is known for its commitment to client service and top shelf amenities.
For more information or to find a club near you, visit http://www.thegentsplace.com