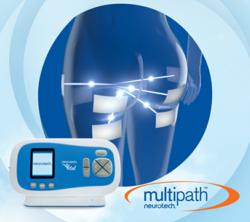 Minnetonka, MN (PRWEB) May 30, 2013
Research demonstrating the efficacy of Neurotech Vital, a technology for stress urinary incontinence, will be presented on May 30 at the 2013 annual meeting of the International Urogynecological Association in Dublin, Ireland.
Neurotech is a global leader in rehabilitation and pain management devices with U.S. headquarters in Minnetonka, MN.
Neurotech Vital strengthens the pelvic floor musculature through surface neuromodulation delivered via a garment. It is currently available in Germany and the U.K., and it will be available in the U.S. in mid 2014. Stress urinary incontinence is the most common form of urinary incontinence in women, impacting as many as 30 percent of women within five years of their first vaginal delivery.
Ruth Maher, Ph.D., will present research entitled "The Efficacy of a New Pelvic Floor Neuromuscular Electrical Stimulator Compared to a Sham Stimulator in Eliciting Pelvic Floor Muscle Contractions in Healthy Female Subjects - A Validation Study Using Ultrasound Imaging."
In addition, a paper entitled "The Application of Surface Neuromuscular Electrical Stimulation (NMES) of the Pelvic Floor Muscles in the Treatment of Stress Urinary Incontinence (SUI); A Pilot Study" by Prof. Ralf Tunn and Sonja Soeder, PT will be on view during the conference.
The pilot study, recently concluded at the German Pelvic Floor Center in Berlin, showed that subjects using the Neurotech Vital system for 12 weeks attained clinically and statically significant improvements in one-hour stress and 24-hour pad weight tests, among other objective measures. These improvements were maintained for the length of the 24-week study period.