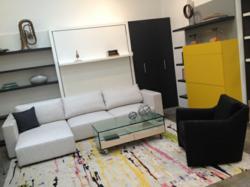 Los Angeles, CA (PRWEB) May 30, 2013
After 13 years in New York, Resource Furniture, the renowned distributor of transformative and luxury European furniture, is excited to announce the opening of its new Los Angeles showroom on Monday, June 3rd, 2013. The new location, 314 North Crescent Heights Boulevard (just off of Beverly), is conveniently located in the heart of West Hollywood.
Resource Furniture has already developed a loyal following in Southern California but now they can finally call LA "home." The new 1,600 square foot showroom, in a dramatic stand-alone building, will provide the Greater Los Angeles area easy access to the hyper-functional furniture solutions that devotees of Resource Furniture have come to know and love. The showroom features the latest products from Italian manufacturer Clei and many others. The team of expert designers is thrilled to work firsthand with the LA community to bring efficient and stylish furniture to the area.
"Los Angeles is an important market full of people who really 'get' the concept of living smarter. We've been successfully delivering and installing systems in Southern California for several years and we're looking forward to servicing the area on a local level now," said Ron Barth, president of Resource Furniture. "Plus, we're saving people from having to make the redeye flight to our New York showroom – it's a win-win!"
In addition to the grand opening, Clei and Resource Furniture are sponsors of Dwell Design Week and will be exhibiting at Dwell On Design, booth 755 in the Los Angeles Convention Center from June 21-23.
Visit the showroom:
314 N. Crescent Heights Blvd.
Los Angeles, CA 90048
323-655-0115
Mon. – Fri. 10am-6pm
Sat. 11am-6pm
# # #
ABOUT RESOURCE FURNITURE
Resource Furniture has built a global network of showrooms offering a range of top-selling luxury European furniture. Resource Furniture is dedicated to redefining the use of space and pushing the limits of technology and design. Since 2000, Resource Furniture has imported and distributed inspired, modern furniture from the finest and most innovative European designers. Every piece in the Resource Furniture collection is selected for its ability to transform a space with both beauty and functionality. For more information, visit one of the showrooms in New York, Los Angeles, Toronto, Vancouver, Montreal, and Calgary or on the web at http://www.resourcefurniture.com.
# # #
PRESS CONTACT INFORMATION
Resource Furniture
Lisa Blecker
Director of Marketing
212-753-2039
lisa(at)resourcefurniture(dot)com