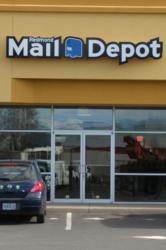 (PRWEB) May 30, 2013
The Mail Box Stores, Inc. announces the opening of the Redmond Mail Depot, a full service Postal & Business Center. Redmond Mail Depot is located at 2498 S Highway 97 Ste F, in the Redmond Cascade Plaza and is locally owned and operated by Karen and Chuck Rainwater. They offer more than 25 shipping, postal and business-related services along with a wide range of related retail products. Their website is: http://www.redmondmaildepot.com .
Whether you need to ship a small package to the other side of the United States, a French Bulldog to a distant cousin, or a Chevy to Argentina, Redmond Mail Depot can handle it quickly and affordably. They also offer packaging, full color copies, key duplication, passport & ID photos, computer time rentals, business cards and letterhead, mailbox rentals, and much more.
In addition to their many services, Redmond Mail Depot sells a variety of packing supplies - including corrugated boxes, bubble wrap, tape, loose fill, labels, cushioned mailers and decorated boxes. They also carry office products, stationary supplies, custom paper, and a unique line of greeting cards and gifts. The store features personalized, friendly service and convenient parking, with hours from 730am-6pm Monday – Friday, 10am-5pm on Saturdays.
The Rainwaters saw a big need for shipping and mail services in the Redmond area before deciding to open their own store. They contracted with The Mail Box Stores, Inc. (http://www.themailboxstores.com) to develop Redmond Mail Depot. The Mail Box Stores and its sister companies are North America's largest discount retail store developer. Since 1995, they have assisted over 3000 independent business owners in establishing their own stores by providing a complete turnkey business opportunity; including financing, site and lease assistance, fixtures, merchandise, store buildout, training, and a no-cost long term support program. According to Theresa Whitley, the company's General Manager, "Karen and Chuck have been involved in every stage of their store's development - from choosing the location and merchandise - to undergoing extensive training. Their hard work and dedication should make Redmond Mail Depot a wonderful addition to Redmond - we wish them every success!"
Redmond Mail Depot is open for business now, with their Grand Opening scheduled soon - watch for that announcement!