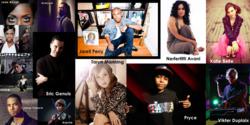 Kenalsworld feature and accept submission for every genre of music.
los angeles, california (PRWEB) May 31, 2013
Kenalsworld is a creative blog site that feature on the rise independent artists as well as well-known musicians on-line. The website is centered around fine art, graphic design, trends in fashion, digital photography and popular music. Presently the web site is one of the most creatively appealing weblogs on the internet when writing about musicians.
The creative arts site launched by founder Pierre Kenal Louis have promoted many musicians that have submit music to be featured on the site. Kenalsworld work and write to balance each aspect of the website that is creative in order to keep everything content in tune with each other. Everyone featured get the best visual representation for their brand, sound and image.
The world of music blog that feature music talents, such as Austin Brown (Michael Jackson's Nephew), Jade Novah a vocal powerhouse with an amazing ability to mimic Beyonce Knowles vocally and as a YouTube personality recently signed under Akon, and several other talented singers and songwriters. Among the male featured musicians and indie artist that Kenal has featured on Kenalsworld include the likes of Jarell Perry, Belgium artist Milla Brune, and Chris Cali. The site have a diverse range of featured talent from singers, songwriter and producers.
Kenalsworld feature and accept submission for every genre of music, but is very vital to sound quality, music composition, lyrics, and direction in the music by the musicians that are selected by the author and his partners that operate the indie artist blog. Featured genres include Alternative R&B, Hip-Hop/Rap, Country, K-Pop (Korean Pop), Jazz, Neo-Soul, Soft-Rock and more.
Be sure to visit the website and what it offers as an indie artist blog for featured musicians looking for an online blog to submit music to. Use the contact page and for and submit the requested information and files for possible features.
--
Eden Louis
Kenalsworld LLC
http://www.KENALSWORLD.COM
submission(at)kenalsworld(dot)com
561.351.9224
Kenalsworld LLC was founded by creative artist Pierre Kenal Louis. Some of the aspects of Kenalsworld is that it is a company that promotes artists, offer graphic design and photography services, feature art for sale by Louis along with unsigned and mainstream musicians as well a creative blog.