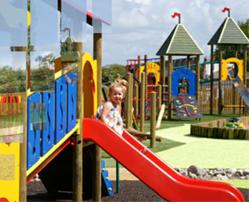 We often take the whole family to Bents these days as there are lots of things to see and do
Bolton, Lancashire (PRWEB) May 31, 2013
As part of Bents expansion plans playground equipment suppliers - Playground Imagineering designed and manufactured Bents impressive new play area.
The ten million pound investment will see many ambitious new ideas being implemented over the next five years as Bents aim to be the biggest and best centre for garden, home and leisure in the North West of England.
The playground located opposite Bents cafe has been a great success as footfall has increased and restaurant takings have improved significantly since the installation.
Bents have commissioned the Bolton based playground equipment suppliers once more with additional adventure features planned for the children's play area.
The continued success of Bents and in particular their cafe and play area has been due to more and more families visiting the centre, relaxing whilst they eat and at the same time enjoying watching their children have fun.
"We often take the whole family to Bents these days as there are lots of things to see and do. It is much easier to get the kids to come with us and they behave all day with the promise of visiting the adventure playground later. Once we have everything we need we sit down at the café and enjoy a coffee and a sandwich and watch them play" said Mr. Jackson a regular visitor from nearby Warrington.
Based in Glazebury, Cheshire Bents was established in 1937 and is still a family owned business.
The North West based Company sells premium home grown plants and provides expert gardening advice to their customers.
Bents have been awarded the 'Garden Centre of the Year' award for three years consecutively; this is still a record today and was awarded by the Garden Centre Association.
Before the adventure play area designed by the Bolton based school playground equipment suppliers, the Cheshire based centre didn't have a dedicated children's outdoor play area.
It is just over 423 square metres and features many exciting pieces of school playground equipment all based around the theme of adventure play.
It took just four weeks to install the original area and additions have not yet been decided upon but are likely to include two new features to complement the already popular outdoor area.
The adventure playground includes a Daffodil Play Unit, Bouncy Discs, Crawl Tunnel, Springy Plank, Stilts, Wigwam, Wooden Mushroom Seats, Wonky Walk, Slalom, Burma Bridge and Orinoco Play Unit.
"As 90% of our business is providing school playground equipment, designing a play area for one of the largest and most prestigious garden centres in the UK was a completely new challenge for us. We had to create a play area which catered for all age ranges and remained sympathetic to the surrounding landscaped environment" said John Hughes of playground equipment suppliers – Playground Imagineering.
"The idea behind the play area is to encourage children to play outdoors and at the same time learn about nature. We are proposing equipment which is completely different from what they have already and also adds fresh challenges for the children" added John, Director of the Bolton based firm.
Formed in 2008 by Robin Harwood, Playground has grown steadily and now employs four full-time staff as well as calling on many sub-contractors as and when projects demand.
Operating from their office and units at Bolton Enterprise Centre in Bolton, Lancashire Playground specialise in all types of playground equipment including school benches and playground markings.
Playground offers a complete service including site inspection, design, planning, installation, maintenance and repairs.
They operate mainly on a national basis supplying nursery and primary schools with the occasional order from abroad contributing to their turnover.