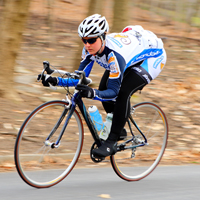 Philadelphia, PA (PRWEB) May 31, 2013
Peanut Butter & Co. Human Zoom is proud to represent its hometown of Philadelphia at the Parx Casino Philly Cycling Classic on June 2, 2013. The "most local" women's team in Philadelphia's premiere cycling race, Peanut Butter & Co. Human Zoom is a regional team comprised of 27 women and 3 men who compete in a number of disciplines, including road, mountain, and cyclocross. The team is recognized by USA Cycling and the Pennsylvania Cycling Association.
Peanut Butter & Co. Human Zoom will be represented by six of its members, two of which live within walking distance of the 2013 start/finish line: Andrea Wagner, Beth Bonilla, Julia Lonchar, Kristine Church, Patty Buerkle, and Victoria Hanks. All of the women on the team balance their training and racing with full-time careers. For example, Bonilla is a mechanical engineer for the United States Navy, Church is a German teacher at Ridley High School in Folsom, and Hanks is the Program Director of the Cadence Cycling Foundation (CCF), a nonprofit youth development organization.
The team is sponsored by Philadelphia-based Human Zoom Bikes & Boards and New York-based Peanut Butter & Co. Other sponsors include JL Velo, Cannondale, Oakley, SRAM, Bontrager and Bergey's Ford. Both Human Zoom and JL Velo have stores on Main Street in Manayunk.
The Parx Casino Cycling Classic, formerly known as the Philadelphia International Championship, launched in 1985 and has been described as "America's top international cycling classic."
You can follow Peanut Butter & Co. Human Zoom's progress at the team's:
Blog: http://www.PBCoRacing.com
Twitter: @PBCoRacing
Facebook: Facebook.com/PBCoRacing
About Peanut Butter & Co.
Peanut Butter & Co. began in 1998 as a cozy little sandwich shop in Greenwich Village, NYC and is one of the fastest growing natural/specialty food companies in the US. The Company's ten varieties of all-natural, flavored peanut butter are available in over 15,000 supermarkets and specialty retailers, and Dark Chocolate Dreams, the Company's chocolate flavored peanut butter is the #1 selling all-natural chocolate nut spread in the country (Source: IRI). Peanut Butter & Co.'s products are made exclusively from USA-grown peanuts. Find out more at ilovepeanutbutter.com and facebook.com/PeanutButterCo and twitter.com/PeanutButterCo.
About Human Zoom Bikes & Boards
With 15,000 square feet of combined retail space, Human Zoom Bikes & Boards operates two of the largest bicycle stores in the Philadelphia area. From families and kids, to BMX, competitive road, tri, and mountain biking, Human Zoom prides itself on providing "everything you need for the perfect ride." Human Zoom's stores are staffed by highly knowledgeable employees and their repair and maintenance services are second to none. Ardmore location: 47 West Lancaster Avenue, Ardmore, PA 19003; Manyunk location: 4159 Main Street, Philadelphia, PA 19127 Online: humanzoom.com and twitter.com/zoominhuman and facebook.com/humanzoomardmore.