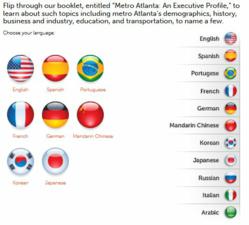 Atlanta, GA (PRWEB) May 31, 2013
The Metro Atlanta Chamber released a new multi-lingual website, featuring 11 of the most common languages. TrueLanguage, a leading provider of professional localization and translation services, was selected to serve on the localization team to ensure the translation was accurate and relevant to native speakers of each of the featured languages. Visitors to the Chamber's site now can refer to information in Spanish, Portuguese, French, German, Chinese, Korean, Japanese, Russian, Italian, Arabic in addition to English when traveling and meeting with clients.
The Metro Atlanta Chamber website provides several resources for global businesses considering Atlanta as a future market, including:

In-depth information on why Atlanta is the right choice for your business translated into 10 different languages. Click here.
"Metro Atlanta: An Executive Profile" which includes metro Atlanta's demographics, history, and information on business and industry, education, transportation, and more in 8 different languages. Click here.
About TrueLanguage
Based in Atlanta, TrueLanguage is a full-service professional localization company that provides cost-effective translation, interpretation and localization services based on each client's specific needs. TrueLanguage offers clients a strong combination of professional language experts, centralized project management and outstanding customer service to ensure accurate, compatible, reliable and authentic translation and interpretation in more than 60 languages worldwide. For more information on TrueLanguage and its worldwide localization services, visit http://www.truelanguage.com or contact the firm at info(at)truelanguage(dot)com or 770 850 1205.