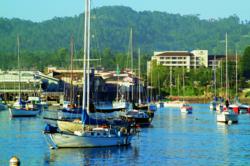 Monterey, CA (PRWEB) May 30, 2013
Portola Hotel & Spa is excited to announce the "More Than a Meeting" sweepstakes, beginning Thursday, May 30. Targeted toward meeting planners, this sweepstakes is giving away a free two-night stay at the hotel as a chance to try out the property before planning an event there.
Portola Hotel & Spa will also be giving away a 'forward to a colleague' prize - $100 Portola Hotel & Spa gift card - to the user who shares the sweepstakes with the most colleagues via email.
The "More Than a Meeting" sweepstakes features an interactive quiz, allowing participants to learn more about the hotel's amenities. In addition to the many onsite amenities, Portola Hotel & Spa wants to highlight the many attractions and activities in Monterey, making it the ideal destination for a corporate retreat or meeting.
Monterey Bay Aquarium
Pebble Beach Equestrian Center
The Wine Trolley
Monterey Bay Whale Watch
"The 'More Than a Meeting' sweepstakes offers meeting and event planners the chance to experience our property before bringing their group here," said Janine Chicourrat, General Manager of Portola Hotel & Spa. "With so much to do in and around Monterey, two nights may not even be enough!"
For more information on Portola Hotel & Spa, visit PortolaHotel.com.
About Portola Hotel & Spa
Portola Hotel & Spa is located in historic Monterey, overlooking the Monterey Bay and the beautiful peninsula shoreline. The hotel is adjacent to Monterey Conference Center, Fisherman's Wharf and the Marina, and is a short walk from historic Cannery Row and the world-renowned Monterey Bay Aquarium. Carmel, Pebble Beach, Pacific Grove and Monterey Airport are each just a five-minute drive from the hotel. With spacious accommodations, exceptional service and a wealth of amenities such as spa facilities, onsite dining, fitness center, a pool & Jacuzzi, and access to the area's best attractions, Portola Hotel & Spa is a superior choice for exciting vacations. Corporate travelers will also enjoy flexible event space and 24-hour business center.