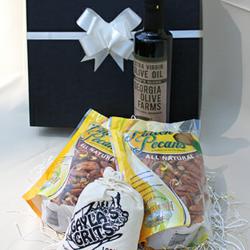 A unique ensemble for the food-loving dad.
Atlanta, GA (PRWEB) May 31, 2013
With the idea of promoting a handful a day all year long, Patten Pecans introduces their first Fathers's Day gift box containing the same items as their most popular holiday box, The Georgia Gourmet Gift Box. This unique ensemble is for the food-loving dad. All products are regional specialties grown and packaged in South Georgia.
The handsome black & white gift box contains:
-2 bags (14 oz. each) Fancy Mammoth Halves and Large Pieces from Patten Pecans
-1 bag (3/4 lb.) Gayla's White Corn Grits
-1 bottle (16.9 oz.) Georgia Olive Farms Extra Virgin Olive Oil
The health benefits of olive oil and pecans (the "antioxiNUT") are becoming legendary so help dad find ways to incorporate olive oil into recipes and 1/3 cup or "a handful" of pecans into his daily diet.
"Like" the Patten Pecan Facebook page to keep up with new products, events, pecan facts, sales, and recipes.
It's easy to order the Georgia Gourmet Gift Box, Father's Day Edition on Patten Pecan's website but they're also available on the phone. They can even customize your gift for dad by including a personal greeting on their gift card stock.
Call Toll Free: 877-577-3226
Patten Pecans
A Division of Patten Seed Company/Super-Sod
23 Valdosta Rd.
P.O. Box 217
Lakeland, GA 31635