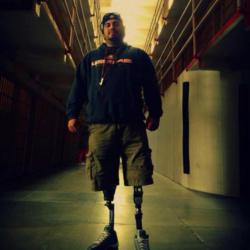 Tacoma, Washington (PRWEB) May 31, 2013
As America enters its 12th year of the Iraq and Afghanistan wars, showing support for our returning wounded service members is more important than ever. Attendees of the event can show their support by participating in the motorcycle dice run sponsored by BROTHERS IN ARMS MOTORCYCLE CLUB or attend the Outdoor Music Festival featuring 5 local bands. There will also be a silent auction at the event from 4-7pm featuring autographed items from the Seattle Sounders, P.O.D, Alice in Chains and more.
The music lineup includes High Noon Horizon, The Nixon Rodeo, Riot in Rhythm, Ben Union and Cody Beebe & The Crooks. Special performance of the national anthem by Amanda Hardy.
Also, three time purple heart recipient and double amputee, CPL. WESLEY LEON-BARRIENTOS, will be speaking at 5:30pm to share his experiences and raise awareness for veteran related issues.
All funds raised from the motorcycle run, live & silent auctions and individual donations will go directly to Operation Ward 57 to support the wounded service members recovering from their injuries at Walter Reed National Military Medical Center in Bethesda, MD. Operation Ward 57 T-shirts that are given to patients and families will also be available for sale at the Rock & Rally event.
The event sponsors Brothers In Arms MC and Rock the Dock Owner Gwendolyn Stence were inspired by Operation Ward 57, and were motivated to find a way to make an impact on and improve the overall quality of life of the Soldiers, Sailors, Airmen and Marines that have sacrificed so much in support of OIF/OEF/OND.
General Info:
MC Dice Run registration will be same day on-site. $15 suggested donation per bike. $10 each additional rider. Music Festival Suggested donation $10 at the door.
Breakfast Available Pre Ride: 9am
MC registration: 9am
Last Bike Out 10am
Beer Garden Opens: 3pm
Silent Auction: 4-7pm
First Band: 330pm
About Operation Ward 57: Walter Reed National Military Medical Center (WRNMMC) in Bethesda, MD is the first stop for many of America's returning wounded service members from Iraq and Afghanistan. Known as "the amputee ward", historically, the orthopedic Ward 57 at WRAMC, now 4E at WRNMMC, houses patients for weeks or even months and the painful sacrifice of losing one or more limbs is the new battle these heroes and their families now fight. Operation Ward 57 was founded in 2007.
How to Donate: http://www.rockandrallyforthetroops.com or http://www.facebook.com/rockandrallyforthetroops
About Brothers In Arms MC - The Brothers-in-Arms Motorcycle Club honors, respects and cares for those who have served, will serve and are serving in our nation's armed forces. We combine our common passion for motorcycling with supporting local veterans and military organizations.
Contact: Operation Ward 57 - Brittney Hamilton, Executive Director, Brittney(at)operationward57(dot)org (206) 713.1363
Rock the Dock Pub & Grill – Gwendolyn Stence, gwendolyn(at)rockthedockpub(dot)com
Brothers In Arms MC - http://brothersinarmsmc-pugetsound.com/
http://www.operationward57.org ~ http://www.facebook.com/operationward57 ~ http://www.twitter.com/operationward57