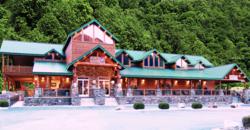 A lot of love and hard work went into rebuilding our new gift shop. We can't wait to share it with the community and show it off to our visitors
Cabins, West Virginia (PRWEB) May 30, 2013
The Outdoor Channel's Eva Shockey will be making a guest appearance and talking with visitors at the grand opening of the Smoke Hole Resort Gift Shop on June 8, 2013 from 10 AM to 4 PM.
Visitors will have the chance to chat with Eva Shockey, who is well-known in the hunting world as the co-host of Jim Shockey's Hunting Adventures on the Outdoor Channel.
The 26,000-square foot gift shop, which has been coined West Virginia's largest gift shop, recently reopened after a fired destroyed the building in 2009. "A lot of love and hard work went into rebuilding our new gift shop. We can't wait to share it with the community and show it off to our visitors," says Jill Teets, General Manager of Smoke Hole Resort. "It is a must see destination in West Virginia. It has even been called a mini Cabelas," she added.
The new gift shop features a wildlife gallery and outdoor gemstone mining.
Beyond the Backyard, an organization dedicated to educating parents and youth about outdoor activities, will be at the event to answer questions about hunting, fishing and camping.
The rest of the days events include a photography exhibit by Vista Landscape, free food tastings, children's activities, and basket and pottery makers.
There will also be door prizes and giveaways, including a Vera Bradley giveaway, as well as other souvenirs, T-shirts and coffee mugs. Many items will be on sale throughout the store as well.
Smoke Hole Resort is destination resort located in beautiful Cabins, WV and is home to Smoke Hole Log Cabins, Smoke Hole Cottages, Riverside Log Motel, 26,000 square feet gift shop, and Smoke Hole Caverns, where one of the largest ribbon stalactites in the world is housed.
Smoke Hole Resort has become premier outdoor destination due to its proximity to numerous outdoor attractions, including Seneca Rocks, Dolly Sods Wilderness area, Spruce Knob, Blackwater Falls and Canaan Valley State Park. For more information about Smoke Hole Resort, visit http://www.smokehole.com or call 304.257.4442.
Media Contact:
Salle Mickey
salle(at)platinumpr(dot)com
304-876-8321