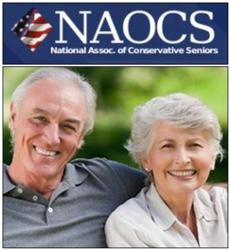 Mooresville, NC (PRWEB) May 30, 2013
The National Association of Conservative Seniors invites potential members to take a look at the benefits of their Gold Patriot Membership. Some of these benefits include exclusive deals in a variety of industries.
When conservative seniors join the National Association of Conservative Seniors, they not only join a group with political goals, but they also opt in to a host of benefits. These benefits include savings in travel, retail, food, health and wellness, Medicare, financial planning, and automotive. For those who become a Gold Patriot of this conservative organization though, the benefits extend even further. This includes taking "political action to the next level." This includes contacting government representatives with one easy click and access to government members who can hear their issues and hopefully, make change for the better.
At NAOCS, members can browse deals according to their membership benefits, read important news that affects their conservative ideals, read media releases about their organization, use senior discount cards, and get access to important resources that make taking action and getting informed easier than ever.
About the National Association of Conservative Seniors
Located in Mooresville, North Carolina, the National Association of Conservative Seniors is dedicated to providing services and benefits to people over the age of 60 who share their conservative values. Their mission is to maintain traditional family and religious values in the US and to reflect those values in government leadership. They are especially supportive of the American military, small businesses, and other conservative Americans. They have made a promise to fight liberal leaders and restore faith, family and friends to America's future. They do this by putting out conservative-centered information and by giving benefits to those who promise to adopt their views. For more details, visit https://naocs.us/.