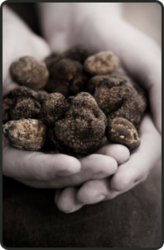 Truffles are bone-white on the inside when unripe, then mature so the interior looks like a slice of pepperoni with a dark brown background.
Dayton, OR (PRWEB) May 31, 2013
The Joel Palmer House Restaurant, led by chef/owner Christopher Czarnecki, has been specializing in wild mushrooms since 1997. This family-run, fine-dining restaurant has over 100 years of experience hunting and cooking wild mushrooms and truffles.
Chef Christopher fields questions every night from guests wanting to learn more about truffles. Some of the top questions: Where they come from? How are they harvested? How does one prepare them?
Hunting for Truffles
1. Out on the Hunt
In Oregon, the indigenous truffles love to grow under the Douglas fir tree. Abandoned Christmas Tree farms make ideal conditions for truffles. Since these farms and wooded areas are almost always on private property, truffle hunters need to obtain owner permission before private property.
Disclaimer: It's always best to go with an expert before making any attempt to hunt truffles. Always have an expert inspect your harvest before eating anything found in the wild.
2. Who are you calling a pig?
Contrary to popular belief, even in Europe, the use of pigs to find truffles has declined and pigs have been predominantly replaced by trained hunting dogs. The use of dogs and pigs is especially helpful when hunting for black truffles. Black truffles tend to be harder to find due to their color blending into the dark soil as well as their scarcity.
3. To rake or not to rake?
There is an unfortunate rumor that raking for truffles is a bad thing. Some say it's impossible to get a ripe truffle, others complain that it's destructive to the forest. Both of these concerns can be true when dealing with unskilled or greedy commercial harvesters. However, when harvesters rake the forest floor gently, being careful not to tear the roots of the trees, one can find a plethora of truffles without the need for pigs or dogs. Case in point: 100% of the truffles used at the Joel Palmer House have been raked by retired chef and owner, Jack Czarnecki. Each year, Jack's truffle patches reward the team with another harvest and the bounty of Oregon's truffles continues to dazzle guests.
4. Storage and Ripening
When a truffle is harvested during its growth phase, it may not smell like anything but dirt. That doesn't mean it won't develop into ripeness. With the simplest of care, they will ripen in the refrigerator on their own. This process can take as little as a couple days, up to a few weeks. However, if the truffle has been harvested at the very earliest part of the season, then there is a good chance they won't ripen.
After thoroughly cleaning the truffles under running water with a toothbrush, place the truffles in a plastic zip-top bag, making sure that it is no more than 1/3 of the way full. Include one or two sheets of paper towel to absorb excess moisture in the bag, seal and store in the refrigerator. Check the bags daily for the distinct truffle odor and replace the paper towels as they get damp. Not all of the truffles will ripen at the same time and the occasional truffle will go bad and should be removed from the bag.
5. Checking for Ripeness
To determine if the cleaned truffles are ripe, nick a tiny piece off the truffle. If the center of the truffle is pure white, then the truffle isn't ready. If instead the interior has a dark, pepperoni pattern then the truffle is ready for use. Of course, the intoxicating scent of a ripe truffle is always a dead giveaway.
Buying Truffles
1. A Distinctive Aroma
The most desirable quality of a truffle is its distinctive aroma. The aroma actually comes from the gases that the truffles emit and these gases are what make truffles so distinctive and alluring. Many of the salts, oils, and jarred truffles are, in fact, infused with a synthetic compound that very closely mimics the characteristic smell of truffles, therefore it's important to read labels to ensure you are purchasing the genuine article. Only the genuine article will indicate two things: olive oil and truffles. Synthetic products will typically list terms such as "natural truffle flavoring", "artificial flavoring", or "truffle aroma", all indicators that the product was made with synthesized gases.
When shopping for whole truffles, if the market has been storing their truffles on rice, there's a good chance that most of their gasses have been absorbed by the rice, never to be enjoyed again. Therefore, before purchasing, smell the truffles to ensure quality and ripeness.
2. Preserving Truffles
To best preserve truffles at home, finely chop them and fold into butter. This truffle butter will keep frozen for up to 6 months. Do not simply put truffles into olive oil and expect to make an infusion, as there is a high risk of contamination if not done properly. It is much safer and convenient to rely on commercially available natural truffle oils, such as the Joel Palmer House Oregon White Truffle Oil.
Cooking with Truffles
To call it "cooking" is a bit inaccurate because when truffles are exposed to too much heat, their odor dissipates. Therefore, truffles or truffle oil are used most often to top or finish a dish after it's already been prepared. Truffles themselves have little actual flavor, however, when truffles are shaved very thin over a hot dish, like pasta in a cream sauce, then the heat of the dish will release some of the gas so that the truffles can be tasted as they're consumed.
About The Joel Palmer House Restaurant
The Joel Palmer House's innovative and exciting menu features choice local produce, wild mushrooms and Oregon truffles. Chef Christopher Czarnecki and family strive to incorporate seasonal ingredients and use many locally grown vegetables, including many from their own on-site garden. Chef Christopher Czarnecki has created a tantalizing, creative menu that marries perfectly with the world renowned Pinot Noir of Oregon's Willamette Valley. Of note, the Joel Palmer House ranks as one of Oregon's finest historic homes and is on the National Register of Historic Places and the Oregon Historic Register. Built in 1857, the house is Dayton's oldest standing structure. When weather permits, guests can enjoy their dinner on our outdoor patio, soaking in the last rays of sunshine in the heart of Oregon Wine Country.
About Jack Czarnecki and Oregon Truffle Oil
Jack Czarnecki, Founder of Oregon White Truffle Oil, is a noted wild mushroom cooking authority and award-winning cookbook author. Jack moved from his native Reading, PA where he ran the family business, Joe's Restaurant, for 22 years. He and his wife, Heidi, moved to Oregon and opened the Joel Palmer House restaurant in 1997. His books include "Joe's Book of Mushroom Cookery" (Atheneum, 1986, paperback, 1988), "A Cook's Book of Mushrooms" (Artisan, 1995) which won the 1996 James Beard Award, and "Portobello Cookbook" (Artisan, 1997). Jack is also the Founder of The Czar's Sauces product line. Jack and his friends harvest the Oregon white and black truffles used at the Joel Palmer House restaurant.