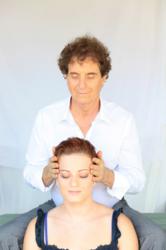 I wanted to find a way to provide direct feedback to our practitioners and our community who want to learn more about Quantum-Touch. Richard Gordon, Founder of Quantum-Touch
Santa Monica, CA (PRWEB) May 31, 2013
Members and followers of Quantum-Touch have a new opportunity to connect with Richard Gordon, the innovative founder of the self-healing modality.
In May, Gordon launched a one-hour Group Healing Question and Answer session that gives community members the chance to phone in or email questions about Quantum-Touch.
"Quantum-Touch is gaining so many followers around the globe, it's impossible for me to directly connect with each one," Gordon said. "I wanted to find a way to provide direct feedback to our practitioners and others who want to learn more about Quantum-Touch. The Group Healing Question and Answer session provides a fantastic forum for interaction and greater understanding of energy healing."
During the May call, community members posed a variety of questions to Gordon, including:
1. How can I practice QT on myself when I need it in times when I am feeling really upset and worried? Is it actually possible for people to help themselves when they really need it? How?
2. When I try to help someone with QT and do not see results, how do I know if I'm not raising my vibration high enough or the "healer" is not entraining? Is there a way for me to measure my energy level?
3. Can you explain how this is different from energy work like Reiki and/or shamanic journey work where you work with ancestral spirit or other spirit helpers?
4. What do you suggest if a session becomes intense for a client emotionally and the practitioner makes the call that the client is need of additional mental health guidance? How does the QT practitioner proceed?
A recording of the call is posted to the Quantum-Touch blog so anyone can conveniently listen to Gordon's answers and guidance.
Learn more about healing and reducing pain using Gordon's principals in his second book "Quantum-Touch 2.0: The New Human." The books provides simple and effective techniques to expand on what it means to be a human being.
Included are:

Simple, effective ways to raise bodily vibrations and accelerate healing.
The amazing power to reduce bodily pain.
Evidence of humans' abilities to heal that goes beyond current understanding.
An explanation of how consciousness can positively affect the physical states of others.
The book is available for purchase as a paperback or Kindle version at Amazon.com. Gordon's first book, "Quantum-Touch: The Power to Heal," is also available on Amazon in paperback and Kindle editions.
ABOUT QUANTUM-TOUCH, INC.
Quantum-Touch, Inc. provides a method of natural healing that works with the "Life Force Energy" of the body to promote optimal wellness. Life Force Energy, also known as "chi" in Chinese and "prana" in Sanskrit, is the flow of energy that sustains all living beings. Quantum-touch teaches simple and effective ways of using energy medicine to reduce pain, realign structure, balance organs, glands and systems, heal injuries and so much more.
For more information, please visit http://www.quantumtouch.com.