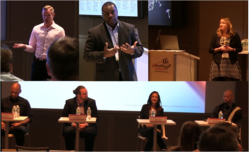 New York City, NY (PRWEB) May 30, 2013
eHealthcare Solutions (EHS) assembled its publisher partners and digital agency contacts at its second annual Publisher Summit in New York City from May 14-15.
EHS brought in speakers from organizations such as Manhattan Research, Eli Lilly, comScore, and Digitas Health to present trends data and share marketer needs directly from the top agencies.
Here's a recap of the speakers and key topics:
What's happening in the healthcare industry? Manhattan Research President Meredith Ressi shared her company's insights with key industry publishers at the 2013 eHealthcare Solutions Publisher Summit in New York.
Why does pharma's reputation need a boost from the healthcare professional population? Yolanda Johnson-Moton of Eli Lilly shared her company's thoughts on how to improve perceptions and reminded the Summit audience that we all share the same ultimate goal for improved patient care and outcomes.
How can digital publishers in the healthcare space bring more value to advertisers and their agencies? Publicis Health President Matt McNally shared his insights with the elite group of Summit attendees.
Where are consumers going online? comScore Senior Vice President Wendy Josefsberg discussed surprising media trends in today's consumer audience.
What trends are emerging in physician/HCP digital usage? comScore Vice President Health Vertical David Shronk examined what this segment of the healthcare community is doing online.
Prescriber authentication and list-matching is more important to media buyers than almost anything else, according to AJ Dopwell from Razorfish Healthware and Alya Sherman from CMI/Compas two participants in our agency panel. Panelist Dan Haller from Heartbeat Ideas challenged the audience on creating a hybrid opportunity between eTOCs and custom emails and provided the consumer marketing perspective to the discussions. Adding his perspective on the topics, Kelvin Green from Cadient reinforced the essentials for ROI planning, tracking, and analysis.
Healthcare audiences appeal to more than pharmaceutical advertisers. The Halo Group's Senior VP Michael Pierre shared his perspective on how the value of any audience depends on the program objectives.
Sarah Bast from Digitas Health joined eHealthcare Solutions staff members Kim Silverman from sales and Jo Elynn Cook from marketing on a panel to discuss targeting and making connections with the right audiences. She explained her agency's approach that focuses on content as the new currency in today's health marketplace. Kim and Jo Elynn presented on EHS Informed Targeting(TM).
These are just some of the highlights of important information discussed at the 2nd EHS Summit event.
eHealthcare Solutions (http://www.ehealthcaresolutions.com) creates custom digital solutions designed to achieve specific marketing goals and reach defined target audiences. We partner with marketers who want to reach physicians, other healthcare professionals, and health consumers through our exclusive relationships with more than 75 of the leading healthcare professional societies, associations, and media companies, consumer health sites, and other quality digital partners in the pharmaceutical/healthcare vertical. We are experts in digital healthcare marketing with decades of collective experience building programs that drive results and deliver maximum brand impact.