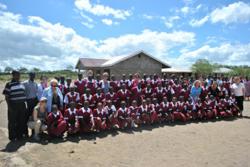 Industry, CA (PRWEB) May 30, 2013
US Bankcard Services, Inc. (USBSI) , a leading merchant processing service provider nationwide, is proud to continue its tradition of supporting charitable causes for youth by being a Platinum Level Sponsor of the Women Leaders in Action (WLA) Charity Golf Classic in Atlanta, Georgia. In the last few years, USBSI has donated to the Muscular Dystrophy Association's Annual Shamrocks Against Dystrophy Campaign, sponsored tickets to the Ringling Brothers Barnum and Bailey Circus show for the Asian Youth Center of San Gabriel, donated to Children's Wishes of Rhode Island, and raised funding for the Pediatric Brain Tumor Foundation, in addition to hosting blood drives and contributing generously to disaster relief efforts.
To support this year's WLA Charity Golf Classic event which will be held on June 3, 2013, USBSI has signed up to be a Platinum Level Sponsor, the highest level of support an organization can pledge. Proceeds from pledges and funds raised from this event, hosted by Elavon, Inc., will benefit a Maasai village south of Nairobi, Kenya called Oldonyonyokie. USBSI's contribution will help fight poverty in Africa by supporting the education of children from Oldonyonyokie. It will provide school uniforms, books, solar study lamps, malaria treated bed nets, and school fees for 100 children for four years. In addition, USBSI and WLA's donation will furnish a primary school's girls dorm and go towards building a solar-powered computer lab for disadvantaged children.
About WLA and WLA Kids
WLA is a women's resource group that meets several times a year to engage in charitable work and provide support for community-based programs. WLA Kids carries out education-related projects that would make a significant difference in children's lives. In 2012, WLA Kids helped over 200 children by providing them with much needed supplies and scholarships to attend secondary school. In 2013, their goal is to expand this reach and provide support for 500 children. USBSI is pleased to be able to support and work with the Women Leaders in Action in their mission to improve the lives of African children.
About US Bankcard Services, Inc.
US Bankcard Services, Inc. is a top rated MSP that offers competitive rates, incredible customer service support, and cutting edge technology in credit card processing service. USBSI offers a wide array of value-added services, including QuickDining.com (QD) restaurant e-commerce, gift card services, check guarantee, PCI-DSS compliance consultancy, 24-7 multilingual customer service and technical support. US Bankcard Services, Inc. is a registered MSP/ ISO of Elavon, Inc. Georgia
For more information about merchant bankcard services please visit us at usbsi.com or call us at: 1-888-525-8558.