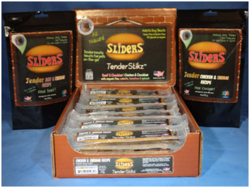 We are now thrilled to be able to offer Sliders®, which have grown quickly into one of our top selling treats.
Wilton, CT (PRWEB) May 31, 2013
Clear Conscience Pet, the inventors and manufacturers of Sliders® brand tender pet treats, SuperGravy® pet food toppers, and several other natural treats, has announced the first departures from their strictly direct-to-retail distribution strategy. The first distributors appointed are American Distribution and Manufacturing Co. of Cottage Grove, Minnesota, and Vermont Pet Food & Supply, of Burlington, Vermont. Both deals commence in June and will provide service to retailers in a large area of the Midwest through American Distribution (known to many in the industry as ADMC) and throughout Vermont through Vermont Pet Food & Supply.
"When we launched and began building our brand identity, going direct to retail was absolutely the best plan for us," said Clear Conscience Pet Founder and President Anthony Bennie. "But with our exponential growth in the past year, and the huge response to our new Sliders brand tender meaty dog treats, partnering up to reach out to numerous new retailers in the Midwest and Vermont is an exciting new opportunity. We are grateful to have joined with two legacy players like ADMC and Vermont Pet with strong family ownership, vast experience, and strong commitments to the growth of natural and holistic pet nutrition in their regions."
Joining in the announcement were principals and senior management for both distribution companies. Jon Duclos, the President of ADMC and part of the founding family that has owned the business for 75 years, issued this statement:
"American Distribution is excited to welcome Clear Conscience Pet into our offering of ultimate pet health & nutrition products. Their unique brands and six time award winning products for nutritional excellence compliments our enhanced brand portfolio for the future. Anthony Bennie has a tremendous amount of industry and pet nutrition knowledge and we look forward to growing our businesses together within the independent retailers across the central corridor of the United States."
Kevin Eddy, the General Manager of Vermont Pet Food and Supply and Pet Food Warehouse, the company's retail operation, also offered a comment on the new distribution deal in his area: "Clear Conscience Pet brands have proved to be excellent offerings in our retail stores. We are now thrilled to be able to offer Sliders®, which have grown quickly into one of our top selling treats, and SuperGravy, our most recommended taste and nutrition boosting pet food topper, to our extended Vermont independent dealer family. Our state is a strong supporter of natural and holistic pet products, and we know and trust Tony's deep understanding of pet nutrition. We have been among his biggest supporters as he has built this outstanding product line that truly complements the lives and health of our best friends. It's a winner for us and our customers."
About Clear Conscience Pet:
Clear Conscience Pet was founded in 2010 to create healthy, wholesomely sourced, and incredibly tasty treats for dogs and cats. All products are artisan made in the U.S.A. from 100% American ingredients with an emphasis on grass fed, family-farmed, and sustainable sources. The company has won six national awards for pet nutrition since late 2011, making Clear Conscience one of the most honored companies in the history of the pet nutrition industry.
Web address: http://www.clearconsciencepet.com.
Facebook page: Clear.Conscience.Pet.LLC.
Twitter: @CCPetTreats.